How To Switch Facebook Accounts In Your Browser
People have more than one Facebook account. The reasons are debatable but we're going to stick with the assumption that one is for work, and the other is for personal use. In that context, you might need to switch Facebook accounts quickly. There are probably extensions/add-ons that can help make that easier but they might be a security risk. Facebook it seems has caught on that this might be a genuine need. It's added an account switcher to its web interface.
Switch Facebook Accounts
If you visit Facebook, you will see a new button next to the Home button on the top bar. This is the new account switching button.

In the window that appears, click 'Add Account'. You will be redirected to the Facebook login page where you can sign into your second account.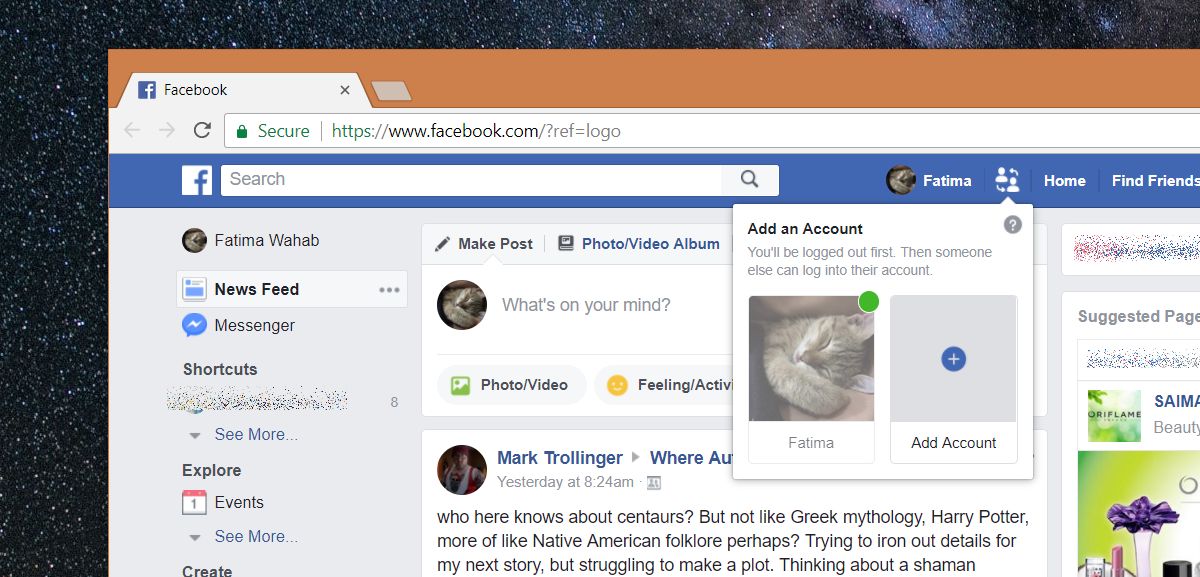 The first time you use the account switcher, you will have to enter both your email and password. The second time around, you will only have to enter your password. Once you've added a second account, the account switcher window will show it. You only have to click the account's profile picture in the little window, enter the password, and you will be switched to the other account.
If you're worried this will leave one or both your accounts open to unauthorized access, it doesn't. While you can add two or more accounts, at no point does this feature remove the password requirement.
In the absence of this feature, if you wanted to sign into Facebook, you had to first sign out, and then sign in again. This feature eliminates the 'sign out' part, and it also saves you the time spent entering the email for your second account.
Beware Facebook Extensions
There's probably an extension or an add-on that can switch Facebook accounts without even asking for the password. It's not difficult considering password vault extensions are a thing. The only problem is, with Facebook, you have to careful which add-ons/extensions you install. They will have access to your Facebook information and if they so choose, they can misuse it.
We review a lot of extensions and add-ons but we're always weary of the ones that tweak Facebook in any way. If you're tempted to use an extension to help you switch Facebook accounts without having to enter your password each time, be sure that it isn't malicious. Malicious extensions that have access to your Facebook account can steal information and also post on your behalf as well as spam your friends.