Jumptuit: Access And Manage Multiple Social Network And Cloud Accounts
With so many cloud storage services and social networks out there, it can get fairly hard to manage them all. Many of us try to be everywhere at once, while others need a unified place where they can easily keep an eye on their virtual presence. If you're looking for an easy solution to consolidate your life on the cloud, Jumptuit is a new cross-platform service that aims to help you organize, move and copy files between multiple cloud storage and social media services without much hassle. It boasts a decent interface, offers a ton of great features, and supports multiple mobile and desktop platforms.
Jumptuit allows you to connect a ton of different cloud and social media services including Dropbox, Google Drive, OneDrive, Flickr, Facebook, Vimeo, Box, YouTube and more. Once that is done, you can easily move files from one service to another, or access the same content from multiple devices thanks to the native apps available for supported platforms. It even has a web interface that can be used in any web browser on your mobile or PC.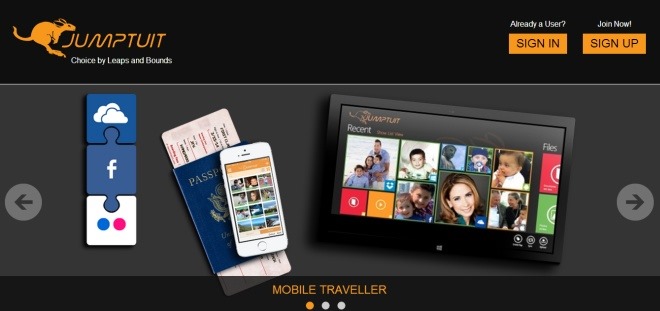 Using Jumptuit is really simple and straightforward. Just go to its website and click Sign In at top right. You can register a new account via email or Google, Facebook, LinkedIn, Twitter etc., after giving it authorization to access your profile data which is probably needed so you can easily access and move files from one service to another.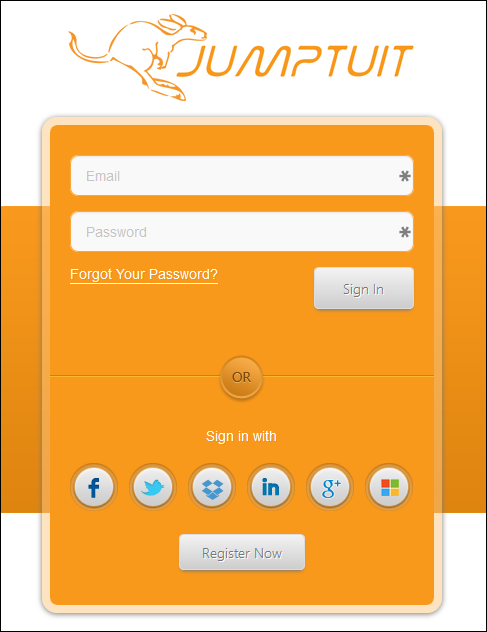 In the next step, the app will show you all the services it supports and allows you to integrate them to it with a few clicks.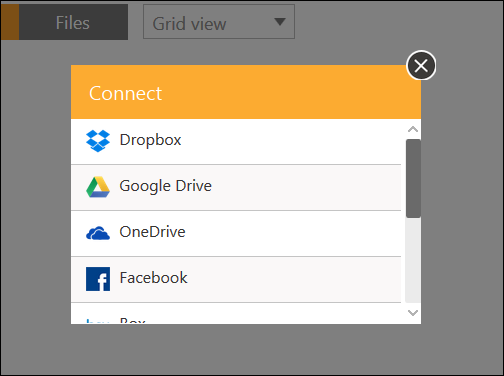 Once that is done, you're presented with Jumptuit's main dashboard area where you can open files, download them to local storage for offline usage, or connect additional services anytime. You can also directly open files in the Jumptuit app, and quickly migrate items from one cloud storage service to another, such as Dropbox to Google Drive and vice versa.
Another useful feature it offers is the ability to upload files to any of the connected service directly from here its interface, saving a ton of time. It also provides a unified search box at the top which enables users to search across files stored on their connected services under one roof. And lastly, Jumptuit enables you to share files with others either by moving them to shared folder or sending it directly through email or social networks.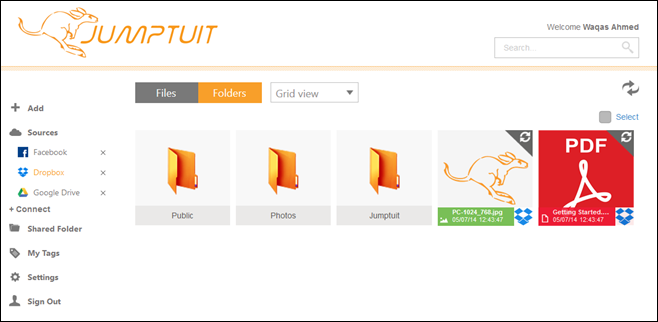 In case you're wondering Jumptuit has native apps for the iOS, Android, OS X, Windows 8 and Windows Phone. Even if you don't have access to native applications, you can use Jumptuit's web app to give it a try.
Here's a screenshot of what the Windows 8 (Modern UI) app looks like.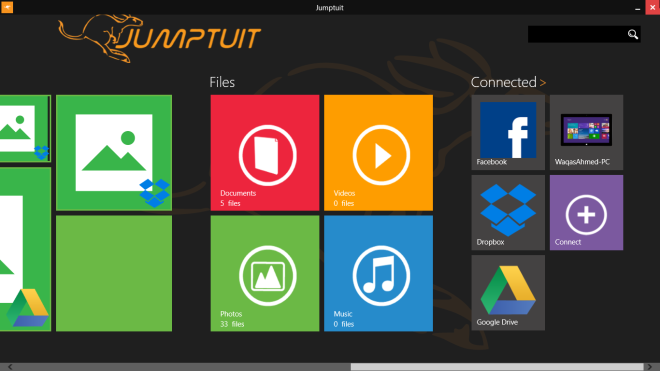 You can connect up to four devices and cloud accounts using Jumptuit's free account. If you need more, you can pay the $10 /month or $100 / year fee for unlimited access.