Latis Adds A Drag-And-Drop Content Bookmarking Sidebar To Chrome
It may seem like stating the obvious, but bookmarking is one of the most handy features of modern web browsers. Thanks to this nifty feature, we can quickly access our favorite websites, webpages, images and other web content anytime we want, without actually remembering their individual URLs. Lately however, services and apps like Keeeb, Evernote Web Clipper and Nimbus have been proving more effective to save snippets of web pages for later viewing. Latis is another new Chrome extension designed to make bookmarking a breeze. It lets you store and manage useful snippets of text, images and web pages as stacks.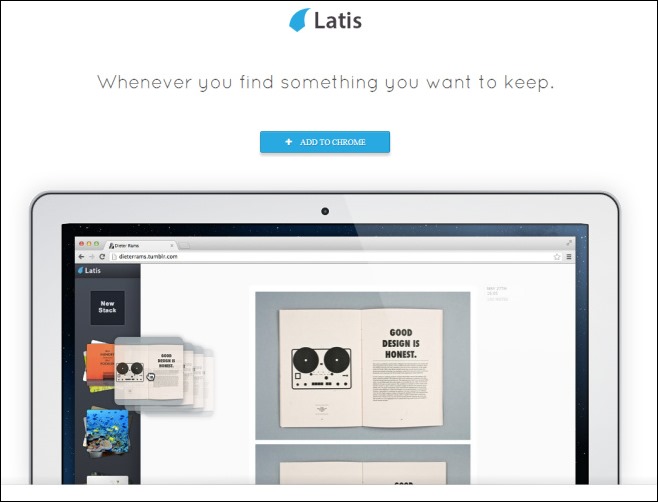 While I wouldn't really count Latis as a web clipping tool, it's a whole lot more efficient if all you want is a bookmarking solution for web pages and sites via simple drag and drop gestures. It basically remembers the bookmarks as stacks of user-selected areas within a web page. For instance, should you like a quote on some page and you bookmark it in a stack, you can later jump to that page itself via its clipped entry from the stack. This is completely unlike services like Keeeb or Evernote Web Clipper that only open the bookmarked snippet.
When it comes to Latis' usage, it's dead simple. Once download and installed in Chrome (via the download link provided at the end of this post), you can click its URL bar button to launch it any time.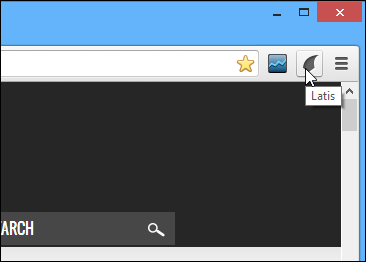 Another way to launch Latis is by clicking its always floating icon found at the bottom-left corner of the browser. This button appears in all websites and acts as a one-step solution to quickly access the Latis sidebar.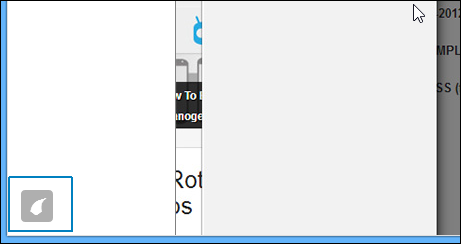 Speaking of the sidebar, it pops up either via the above explained methods, or when you highlight and drag a snippet to create a new stack. To do that, simply highlight the content that you want to save, for instance, a text quote, image or link, and drag it to the left. This in turn will bring up the Latis sidebar on the left. Simply drag the snippet over to 'New Stack' and let go. The sidebar carries all your previously stored stacks under one roof, and you can similarly add snippets to any of the existing stacks as well, which can be especially useful in keeping related content organized.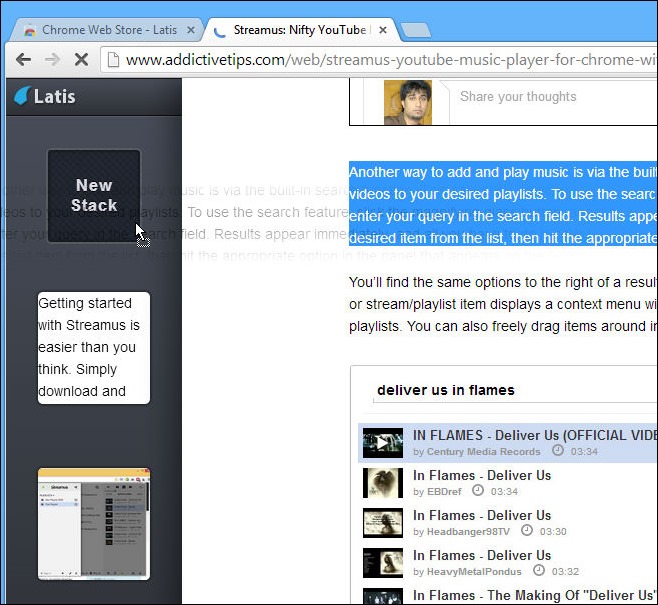 Overall, Latis is a good extension for bookmarking webpages, but it still isn't quite ready to replace services like Keeeb. For instance, it doesn't sync your stacks to the cloud, nor does it let you export selective snippets.
Install Latis from Chrome Web Store