Pearls Extension Scans For & Highlights A Set Of Words On Multiple Websites [Chrome]
If you have to repeatedly search for specific terms on websites that are constantly updated, then Pearls Extension is just what you need. This nifty little Chrome extension provides you with super fast search results for text on any website, and lets you save a lot of time when you have to look up the same term on multiple pages. All search terms are highlighted with different colors, and multiple words can be highlighted at the same time. A real-time count of the "pearls" also appears over the button in the toolbar. Note that the extension does not interfere with the default Chrome browser search functionality, so you can always use that too. With it, you can stay up to date with updating information of interest on your favorite blogs, news and social media websites.
After you've installed the extension, click the button in the toolbar to enter words you want to highlight. You will be able to add words for individual pages and domains, or you can add words for all pages, depending on your preference. Once done, multiple words will automatically be highlighted in different colors, and you will no longer need to search or scroll through lengthy pages to find them.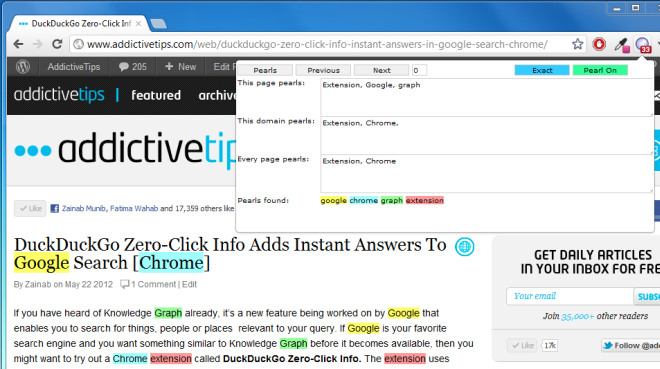 Currently, the extension is not working for websites with frames, so words in Gmail, unfortunately, won't be highlighted. Pearls Extension gives you super fast results and lets you quickly find sets of words on selected pages and domains. The extension can be installed from the link below.
Install Pearls Extension For Google Chrome
If you liked this extension, you might also want to take a look at the other Chrome extensions we've reviewed so far.