Juicebox: Create HTML5-Based Photo Galleries & Embed Them Into Websites
Sharing a collection of your photos with your friends or family on the internet is nothing new. It has now become one of the integral parts of various social networks such as Facebook and Google+, and image hosting services e.g. Imgur, Picasa & Flickr. If you're an avid photographer who wants to share your work on your own website, by creating gorgeous looking photo galleries, then Juicebox is what you need. It's an Adobe AIR-based application (which means you need to have Adobe AIR installed on your machine to get it working, of course). It creates stylish, HTML-compatible photo galleries with fluid navigation that you can easily embed into your website. You may upload images either directly from your local drive or even from a Flickr profile. Furthermore, the application is based on HTML5 and JavaScript, which means anyone can access your albums using HTML5-enabled web browsers like Firefox, Google Chrome, Internet Explorer and more. Apart from being highly customizable, it supports a number of plugins, which allow you to extend the functionality of native features. More after the break.
The desktop client (known as JuiceboxBuilder) is where you actually create your gallaries. The wizard based process consists of a mere four basic steps. If you're using the builder for the first time, then you need to start by clicking the New Gallery button to proceed to the next step.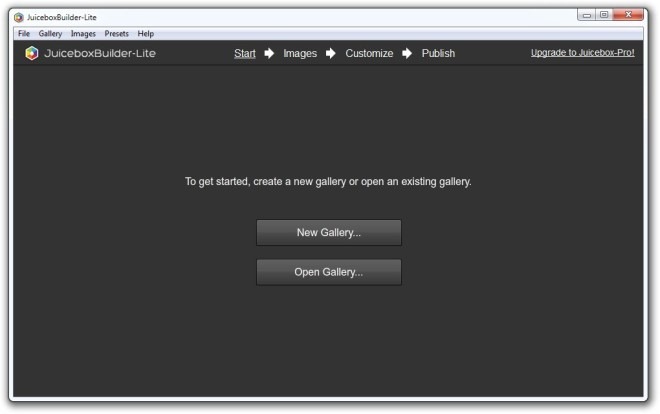 If you want to add images from a hard drive, all you need is to drag your photos over the left side of the application window under Add Images section. However, you can also click Flickr to grab the images from there, instead of inputting Flicker User Name or Flickr Tags and clicking Load Images. Under Image Size section to the bottom-left, you may mark Resize Images or Crop To Fit options, and click Change button to select the resized resolution.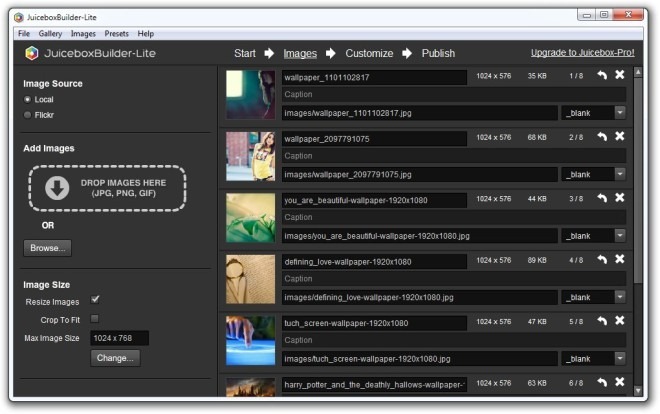 Next up, you need to customize your photo gallery. Just type in your Gallery Title, Gallery Width and Gallery Height – select Background color and opacity and enable/disable other Misc. options such as Show Open Button, Show Expand Button and Show Thumbs Button. Finally, click the Publish button at the top to publish your photos.
Your published photos will be saved automatically to your local drive, and the builder app will give you the HTML5 embed Code, so that you can easily embed it into any HTML page.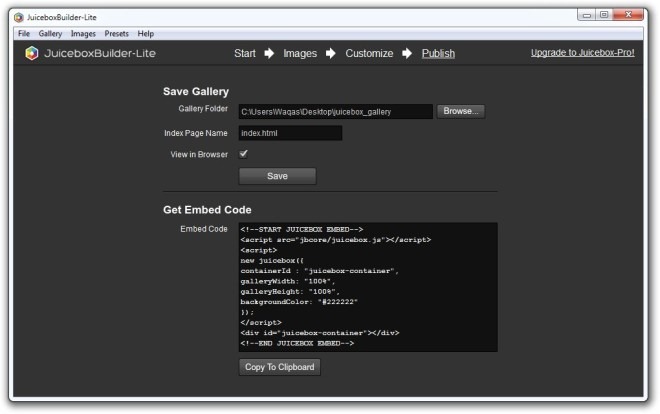 The following screenshot displays the photo gallery we created during testing.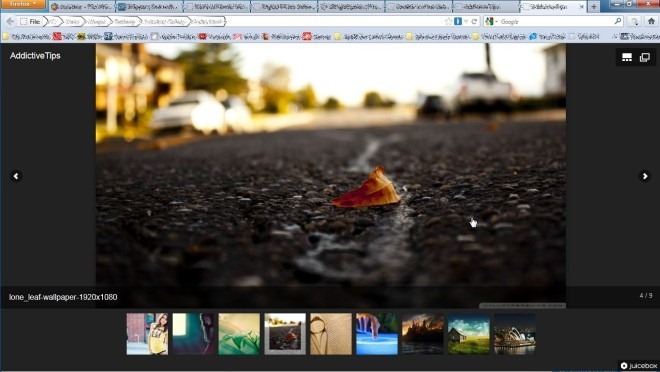 Juicebox is available as a Free (Lite) as well as two Pro versions costing $49 and 99$ for a single license and multi license, respectively. Free version is limited to 50 images per gallery, while the Pro variant (costs $49) is free from any limitations and contains 70+ customization features, options to add background audio & watermarks, and supports AutoPlay and JavaScript API. The Builder client works on Windows, Mac OSX and Linux, provided you have Adobe AIR installed. Both 32-bit and 64-bit OS editions are supported.