How to record audio from a tab in Chrome
We've covered how you can record audio from an app on Windows 10, and on macOS. The process on both platforms is fairly simple and in both cases, you have to use a desktop app to reroute the audio. If you're watching something in your browser, specifically in Chrome, and a desktop solution isn't something you can set up, there are ways to record audio from within Chrome itself. It's not a feature of the browser itself. You will need to install a free extension called Chrome Audio Capture.
The extension is simple to use and you won't have to worry about drivers, audio input/output devices, and re-routing audio streams. It can save the audio in MP3 and WAV format.
Record audio from a tab
Install Chrome Audio Capture from the Chrome Web store. Open the tab you want to record audio from. The extension adds a record button next to the URL bar. Click it and from the pop-up that opens, select 'Start Capture'. The extension supports keyboard shortcuts for starting and stopping the recording.
It's a good idea to start recording before the audio actually starts to play since there may be a slight delay to the recording actually beginning and you might lose a bit of the audio you want to record.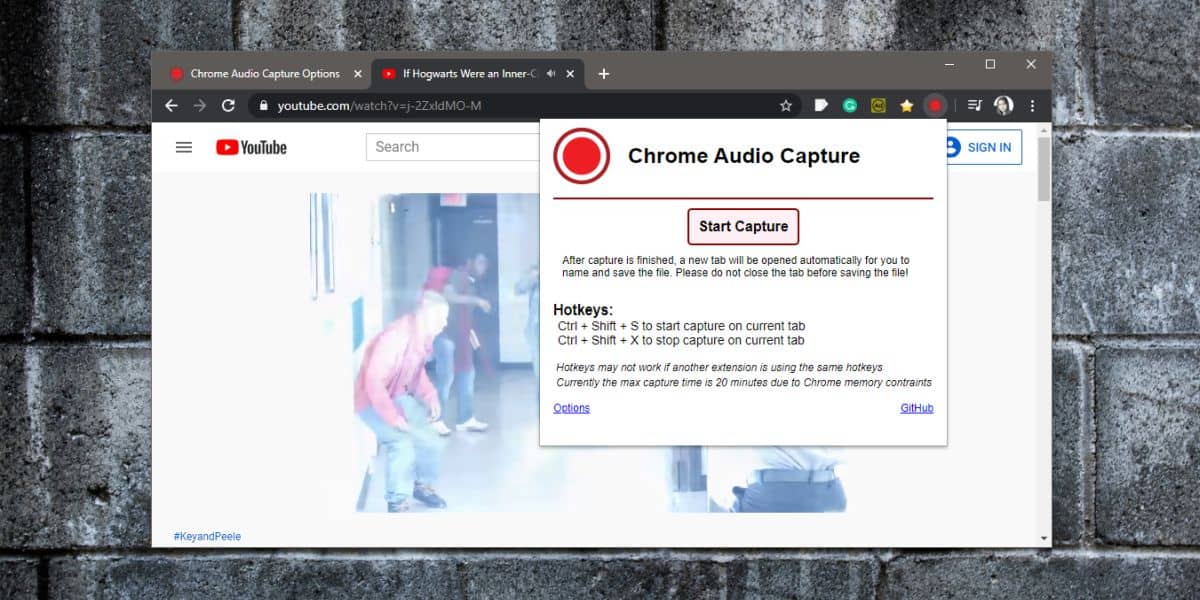 Once the recording is complete, use the keyboard shortcut to end it, or click the icon and select the 'Save capture' button. Once you end the recording, a new tab will open where the extension will encode the audio. Wait for encoding to complete and then click the Save button to save the file wherever you want.
By default Chrome Audio Capture saves files as MP3 files. If you prefer to save them in the WAV format, visit the extension's options and change the output format. You can also change the quality that the audio is captured in. You can't choose the bit-rate but you can choose high, medium, and low quality. This setting isn't available for the WAV format as it is generally a lossless format.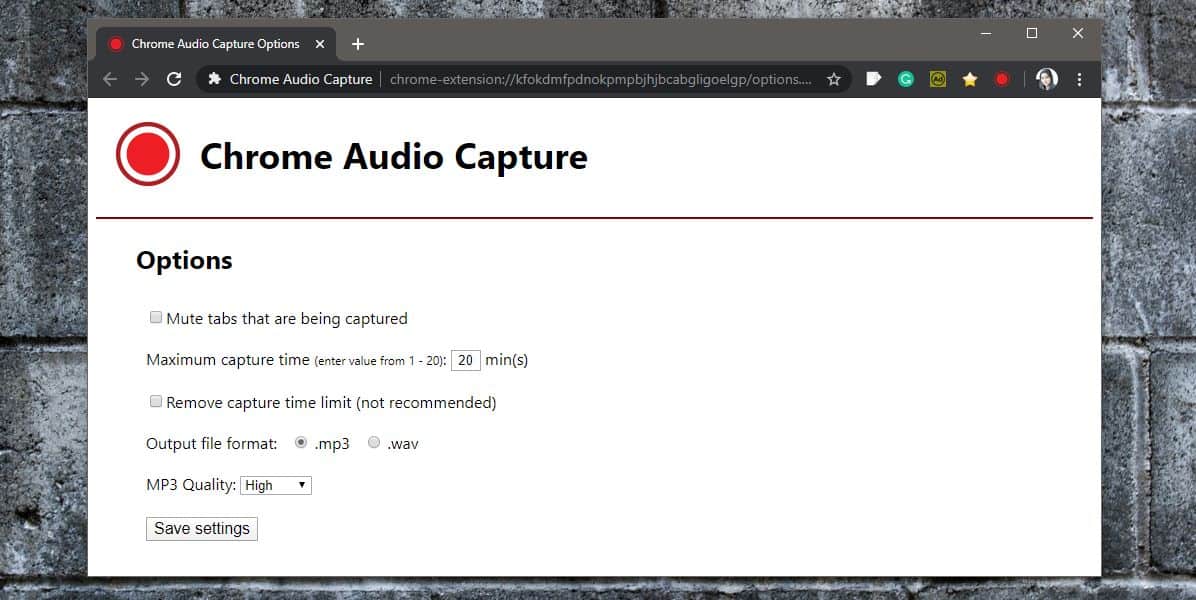 Chrome Audio Capture does not rely on sound to actually play from your speakers to capture it. It gives you the option to mute the tab that is being recorded. By default, the extension adds a 20-minute limit to the recording. This is to prevent the extension from recording needlessly i.e. if you forget to end the recording when audio has stopped playing. You can remove this limit but the extension doesn't advise that you do.