Remove Your Name Badge From The Top Right Corner Of Chrome
Chrome looks different this morning. It's obviously received an update and this update comes with a nice new account manager, and a guest account feature. The new feature and the new profile manager look good, once you have them open, I'm not too wild about the profile icon changing to read my name, and that it now sits next to the minimize, maximize, and close buttons of the Chrome window. All I foresee happening to me is an increase in incidents of accidental clicks and doing things I never meant to do. On top of all this it looks terrible with the otherwise clean interface that we've loved in Chrome for so long. Dare I say it but it looks like Firefox with the Menu bar enabled. Chrome kind of fixed something that wasn't broken. It's also decided to use the profile picture associated with the Google account that's currently signed in to Chrome as the new user profile icon. However, for anyone not happy with either of these visual changes you can revert back to the old UI. Here's how.
Update: This post has been updated to solve this problem for Chrome v.44.0.2403.107.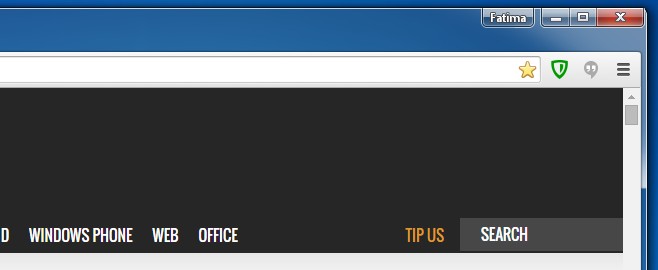 Go to Chrome://flags and look for 'Enable the new avatar menu' flag which is set to the 'Default' value. Set the value to 'Disable'and relaunch Chrome.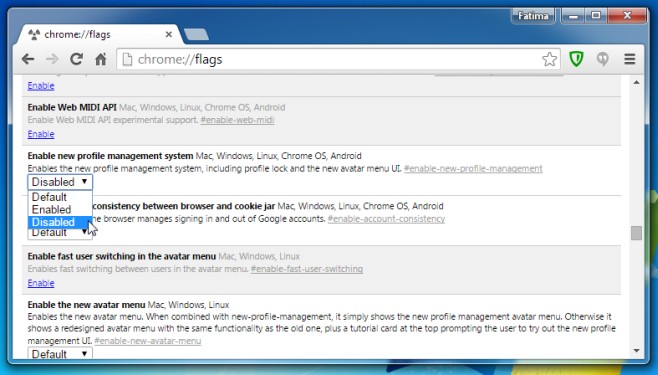 This removes the name badge from the top right and what you end up with is your profile picture at the top left, where the user icon originally appeared. To revert to the old pizza, ninja, or flower profiles pictures, click the profile picture you have now and select the 'Edit' option. Alternatively, you can just go to chrome://settings/manageProfile. From the icons listed, select which one you want to use.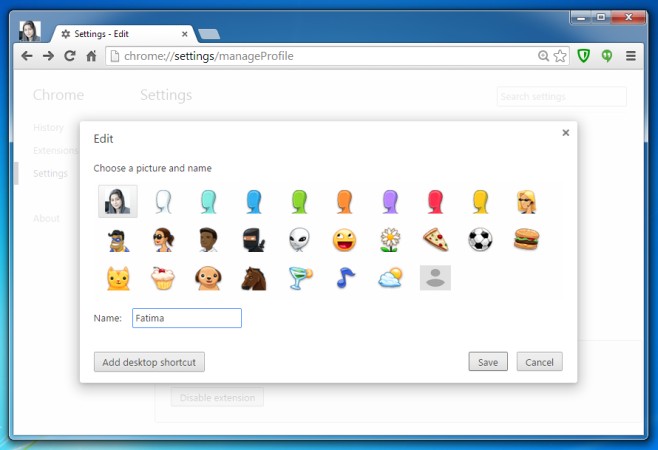 You will have Chrome looking more or less exactly how it did before the update. The shortcomings of this are that you are effectively disabling the new account manager which, apart from its UI change, is kind of nice. It isn't kidding around when it says it lets you delete your profile and that was definitely a much needed feature. It allows you to delete all your account information with a few clicks and is pretty great if you're wiping Chrome clean.
For Chrome v.44.0.2403.107.
One of our readers,  Luff has reported that this isn't working on the latest version of Chrome and has given us a work around. To remove the name badge, you will instead have to use a switch. Right-click on the Chrome shortcut you use to launch it and select properties. Append this switch "–disable-new-avatar-menu" at the end of the Target field without the quote marks. It ought to look like this;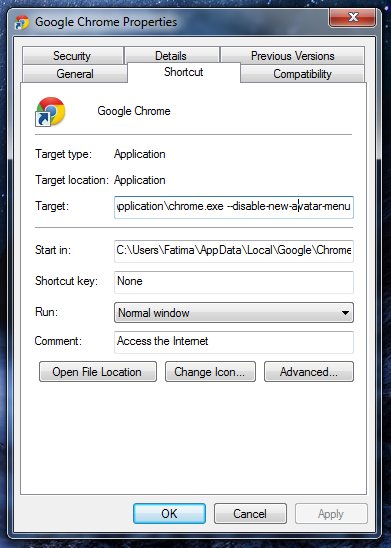 Click Apply and relaunch Chrome. You will be rid of the name badge.