Save A Temporary History Of Your Incognito Browsing Session In Chrome
Incognito browsing modes allow us to hide web searches that we aren't too proud of. This doesn't just include inappropriate searches but also embarrassing ones like 'my hand is stuck in a jar of jellybeans help'. Incognito mode doesn't save your browsing history and while this is great to keep your online activity hidden from anyone using the same computer it's not so great for when you actually need to look at a link you just visited but can't find. Off The Record History is a Chrome extension that keeps history of your incognito browsing session so long as it is active. You can view a complete list of links you've visited and incognito tabs you've closed from the extension's panel. Once you close the incognito window however, your history is erased from the extension so no one can look at it.
Install Off The Record History and go to Chrome://extensions. Look for Off The Record History and allow it to run in incognito mode.

Open an incognito window and start browsing. Whenever you need to look at your browsing history, click the extension's icon and go to the Full history tab. You will see a list of every link you visited in your private browsing session. Click a link to open it or click the delete button (the trash bin icon) to clear your history. Off The Record History has a dedicated tab for closed tabs that you can use to reopen them.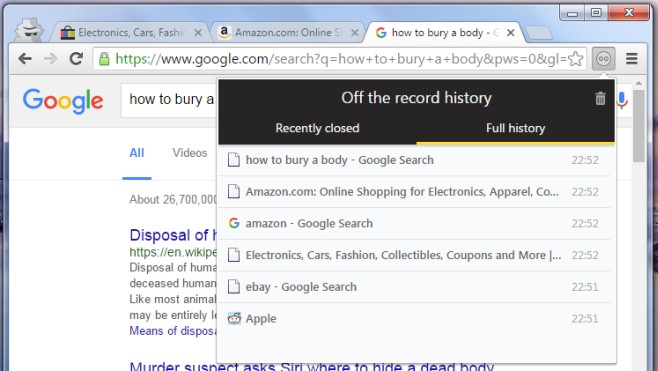 The second you close an incognito window, the history from Off The Record History is scrubbed. The next incognito session begins with a clean slate. This prevents other people from accidentally stumbling onto your private browsing history but still lets you save it temporarily.
Install Off The Record History From The Chrome Web Store