How To Share Your Facebook Messenger Profile Code
If you use Snapchat, you're probably familiar with Snapcodes. A Snapcode is given to each user and when its scanned with the Snapchat app, it allows you to add them quickly. A similar feature exists in Facebook Messenger. Each user has a Messenger profile code which allows other users to quickly add them on Messenger. Adding someone on Messenger doesn't automatically add them to your Facebook friends' list however, you can get a link to their profile from the code screen.
Share Facebook Messenger Profile Code
Your Messenger Profile Code is only visible on the mobile apps. You cannot access it from Messenger for web. In order to share the code, you must have the app installed.
There are two ways of sharing it; in person or via a screenshot. If you're sharing it in person, the other person will have to scan it right away with the Messenger app. With a screenshot or image, you can send the picture to a friend and they will be able to scan it whenever they want.
To view the Messenger Profile Code, open the Messenger app and tap your profile picture at the top left next to the search bar. The circle around your profile picture is the code. Alternatively, you can go to the People tab, and tap Scan Code at the top. The scanner has a second tab that lets you view your code and share it as an image.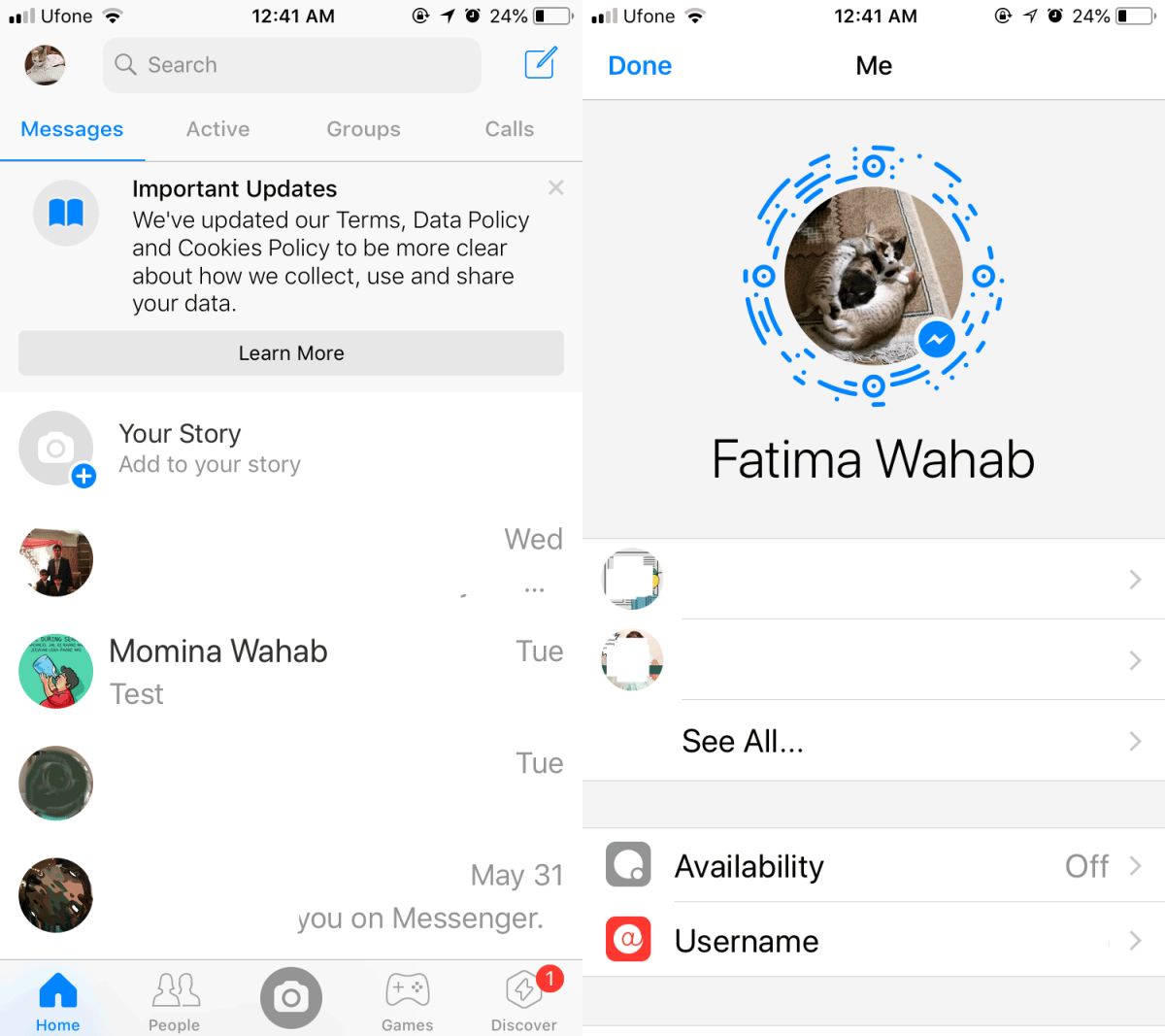 Scan Facebook Messenger Profile Code
Open the Messenger app and go to the People tab. Tap Scan Code at the top. When the camera opens, you have two options; scan a code live or scan a code from your camera roll.
If you have the code live i.e. in physical form or your friend has theirs open on their device, point the camera at it and it will scan the code. Scanning a code will automatically add the person on Messenger.
To scan a code from your camera roll, tap the picture icon at the bottom left of the camera view finder and pick the image with the Messenger profile code. It takes a little longer for the app to scan a code from an image and there shouldn't be anything other than the code in that image. It's not the most intelligent scanner so it has trouble picking the code out from everything else.
Once scanned, the person will be added on Messenger. You can send them messages but they must accept your add request or your messages will go to Message Requests or Filtered inbox.