Slide.ly: Create Slideshows With Photos & Music From Popular Social Networks [Web]
Creating slideshows for your favorite photos not only requires a lot of effort, but can also be a time consuming task, especially when half of your photos are on Facebook, others on Instagram or Flickr, and the rest saved on your computer. So, with all your pictures scattered, how do you create a slideshow? Slide.ly is a free web application that grabs all your photos/albums from multiple popular social networks, such as Facebook, Flickr, Instagram, Picasa and Google Images, letting you create gorgeous slideshows with a mix of your favorite music tracks and effects. The app is easy-to-use and comes with a slick interface. Once you've connected all your accounts, the service will let you pick and arrange images from different sources. For instance, you can select five photos from Facebook, two from Instagram, a few from the local disk and so on. When the images have been added, you will be able to arrange or shuffle them, add your favorite music from YouTube or SoundCloud, and add bright dots, spots, dust or glow effects to your slideshow. Moreover, with Slide.ly, you can share slideshows on social networks, email, embed or copy the URL.
To start off, you can log in via your Facebook account. You will also be able you browse Popular and Recent slideshows created by other users, and navigate through them by different categories, such as Birthdays, Art & design, Family, Music, Sport etc.

After you've signed in, connect all your accounts and start choosing your photos from different albums. You may also add images from your friends' albums other than your own.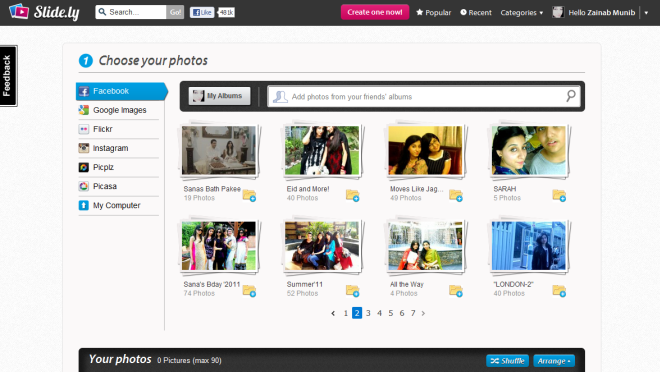 Once you've added all your photos, scroll down the page to shuffle and arrange them according to your needs. In addition to that, you can add captions, set a particular image as the cover photo and drag pictures around to arrange them in the order you want.

Next, add music for your slideshow by selecting the YouTube or SoundCloud option and then enter a track or artist name to search one of the services. You will also be able to browse a number of categories for music found on the left hand-side of the page, such as Movies & TV, Classical Music, Beautiful and more.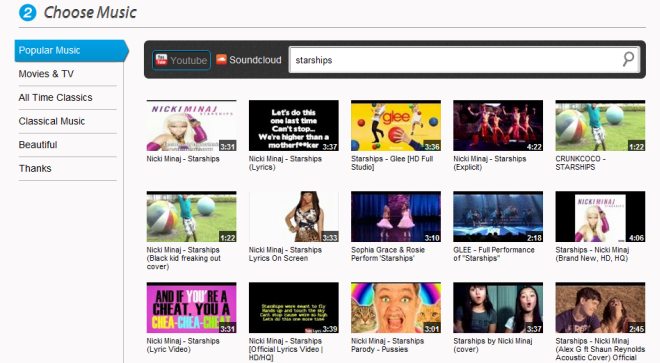 A pop-up window will allow you to add various effects, like Spots, Dots, Dust etc, and you will be able to change the speed of the slideshow by moving the slider.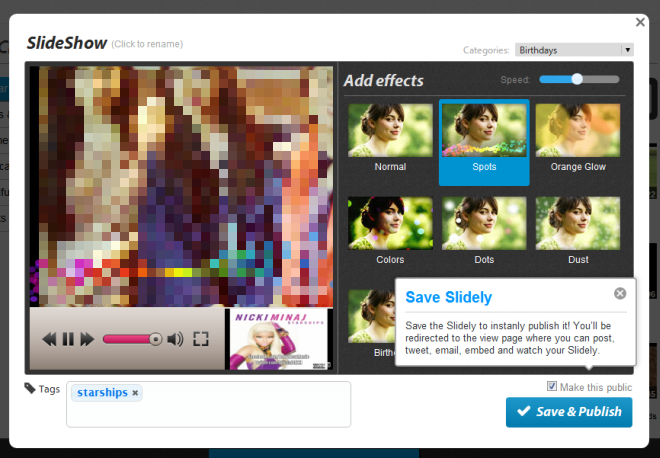 When you've created the perfect slideshow, you can share it with your buddies on Facebook or other social networks, copy its link, email or embed it on your website or blog. Clicking the embed button allows users to select a player size and copy the code for it from a pop-up.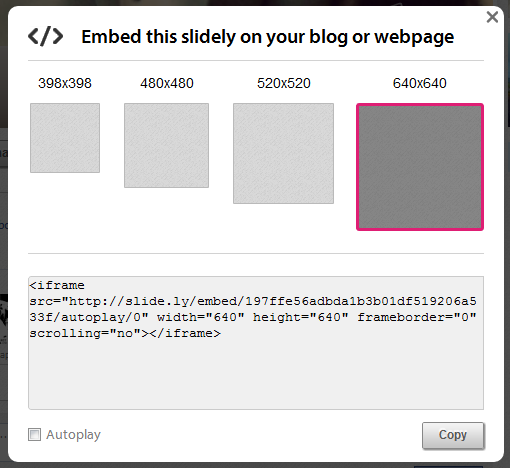 Note that your Slideshows can always be accessed or edited by clicking My Slidelys option under your Profile. Slide.ly only requires a simple Facebook login, after which it connects all your social media accounts so you can create beautiful social videos using your favorite images and tracks. The service is free, so do give it a shot.
If you liked this app, you might also want to look through the other web applications that we've covered so far.