Search & Download Torrents Right Within Chrome With BitTorrent Surf
Torrents are one of the oldest ways of sharing files. They are somewhat controversial as they can (and do) open the way to piracy, but nevertheless, they are still one of the best ways to find and share files. Currently in alpha, Surf is a Chrome extension by BitTorrent that lets you search for and download torrents directly from within the browser. The files are saved to your Downloads folder by default, but you can change the location. You can also specify websites that you want searched for torrents. With Surf, you don't need to have a desktop torrent client running as it can download from torrents on its own. It makes finding torrents extremely easy as well, allowing you to search for them across multiple websites of choice simultaneously.
Note that Surf is based on Torque by BitTorrent, which is installed on your system along with the extension. For those of you who don't yet know, Torque is a JavaScript interface that allows browsers to handle torrent downloads without the help of a client.
When you first install Surf, it will ask you to pick your default search engine (Google, Yahoo or Bing). What this does is add the word 'Torrent' to the search query you submit through Surf.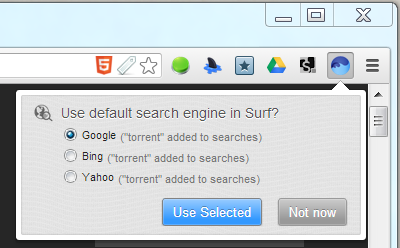 To add more websites for the extension to search through, click 'Search Settings' followed by 'Add Site from URL'.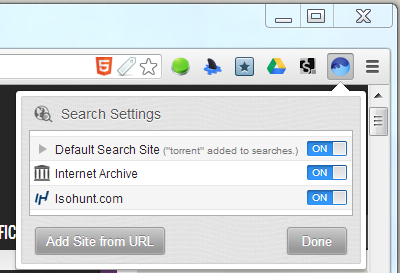 Next, click the little drop-down where it shows completed downloads and select 'Set Download Options'. Here you can select which folder the downloads should be saved to. You can also manage the extent to which you would like to seed a file. In this regard, you have the option to set a target share percentage or a time interval.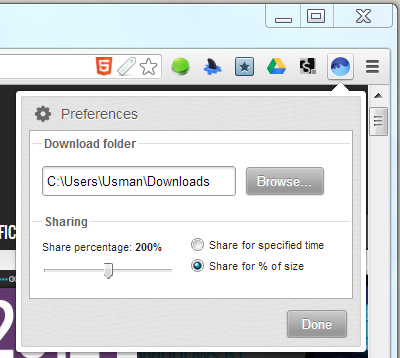 You're now all set to start searching for and downloading torrents. Open the extension's panel and enter a query in the search bar. Surf remembers your search history. This is likely where you will experience the first of the extension's bugs; the search results take a considerable time to appear and the downloads start after a delay as well. You might experience instances where they don't start at all.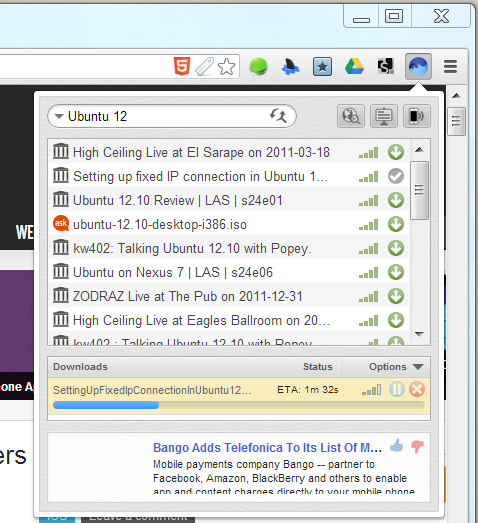 Surf gives you notifications for when a download completes. There are no filters to help define what type of file you are looking for, so you will have to rely on the results and the title of the files to help you pick the right one. If you can look past this and the ads at the bottom, you'll find the extension a delight to use.
Installing BitTorrent Surf For Chrome On Windows 8
If you're using Chrome on Windows 8, the store might display the following message:
"This application is not supported on this computer. Installation has been disabled."
If so, exit Chrome, right-click its executable or the shortcut that you use to run it and select Properties from the context menu. Switch to the Compatibility tab and from the 'Compatibility mode' drop-down, select Windows 7. Hit Apply, then OK and run Chrome once again.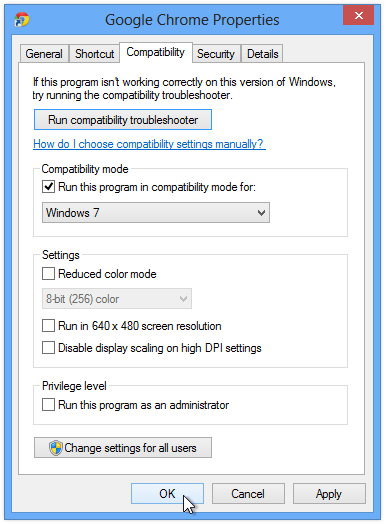 You should now be able to install the extension.
Install Surf From Chrome Web Store