Test Different Fonts On Any Website In Real-Time With TypeWonder
Have you ever wanted to test different fonts on your website in order to decide which one would look best? A task like this can take a lot of time and effort, as you will have to go through all the coding stuff and transferring font files to your web server to see everything in effect. Although you can test font files on your local web server, how about seeing the changes on your live site? Thanks to TypeWonder, doing that can now be a breeze. It's a web app and Chrome Extension that you can use for testing any website with different typefaces without even changing anything in the real coding. You simply have to enter the URL of the required website, and TypeWonder will let you preview different web fonts on it.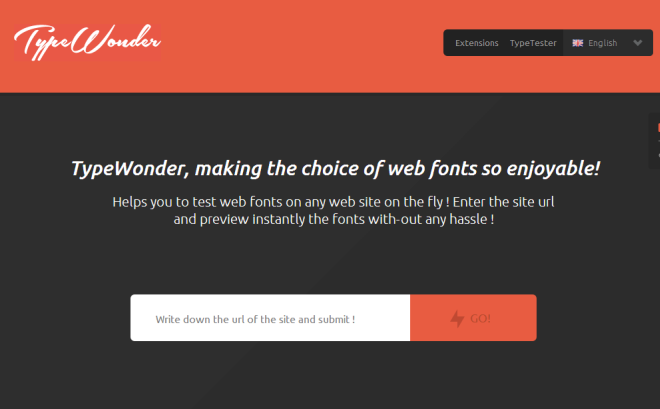 Using TypeWonder is fairly simple and easy process. Once you're on its website (link provided at the end of the post), enter your site's domain name in the URL field and hit the GO button.

TypeWonder then lets you specify the font type that you want to preview. The service uses the Google Web Fonts API and since Google's web fonts repository is quite large, it means you have a lot of choices at your disposal. The popup window also lets you instantly find the required font by name using the search field, as well as sort the list order by popularity and name. That said, you can also replace the default text with custom text of your choice. After selecting your desired font, click Use to apply changes.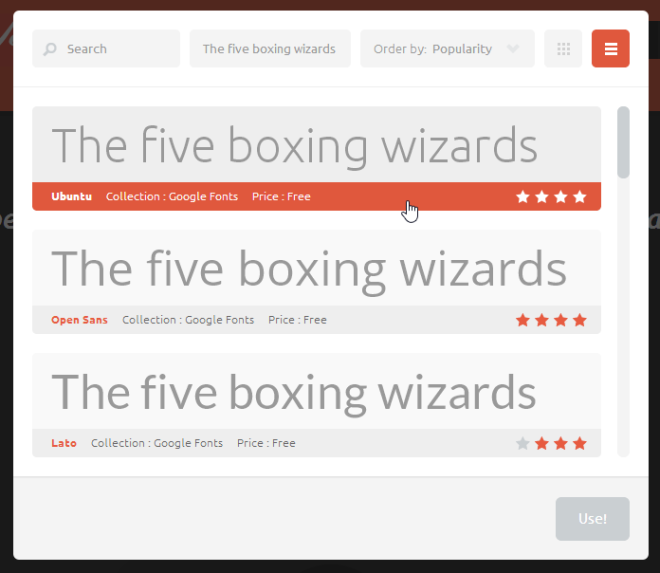 TypeWonder then displays a new version of the website with your newly selected typography applied. By using the small horizontal bar at the top, you can change the currently selected font to a new one on the fly. Furthermore, it gives you an option to get the necessary code of your desired font type and embed it on your site's HTML to apply the changes to your actual site for all to see.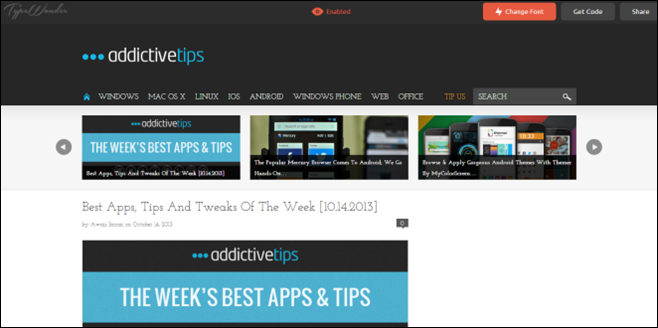 Besides testing fonts on live sites and offering embedding code for it, TypeWonder also has an integrated font tester tool that allows you to view and download fonts to your computer. This options gives you better control over how each font will look on headings, as a character or within a whole paragraph.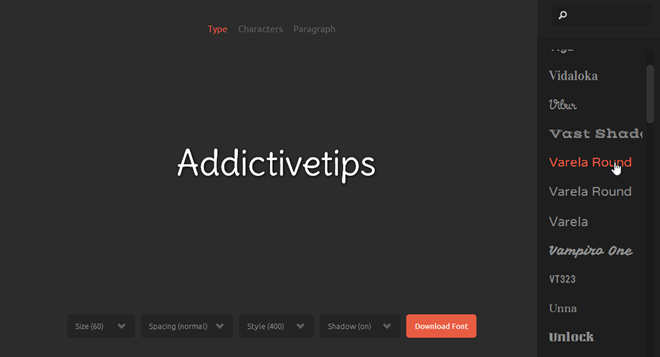 As mentioned in the beginning, TypeWonder also has a Chrome extension for one-click font switching. All in all, it's an excellent service for testing various fonts on a website.