Open Word, Excel & PowerPoint Files In Chrome With Office Viewer
Chrome can open a lot of different files without the need to install any extra plugins, extensions, or scripts. In fact, many modern browsers can open some of the common file types that are used everyday including media files in MP3 and MP4 format, and PDF documents. Granted that browsers aren't the best file viewers for multimedia files, they are still great for quick previews or when you don't have your preferred app available. The one file format, or rather the group of file formats that browsers don't normally support by default are Microsoft Office documents, presentations, spreadsheets et al. If you don't have Office installed on your PC or Mac, you can turn to Google Drive's web version or services like Box and Jumpshare that offer online file previews in order to view these files. Chrome users on the Beta channel now have another option. Google has released a new extension called Chrome Office Viewer that allows you to drag and drop your Word, PowerPoint, and Excel files to your browser's window and view them in it directly. The extension is currently experimental, so expect a hiccup or two here and there.
Chrome Office Viewer is a rather large 25MB download and as mentioned above, it will work only on the Beta channel. Whether it will be compatible with the next stable version of Chrome or not is unclear right now, but we're going to stay optimistic about it. Chrome Office Viewer supports DOC, DOCX, XLS, XLSX, PPT, and PPTX formats. Office power users will no doubt note that there is no support for other office file formats for Publisher, Visio etc.
Chrome Office Viewer will work in the background and load automatically when you drag & drop a supported file on a Chrome window. If you were to do the same with the extension disabled, or with the stable version of Chrome, the file would simply appear to download as if you were downloading it from the internet.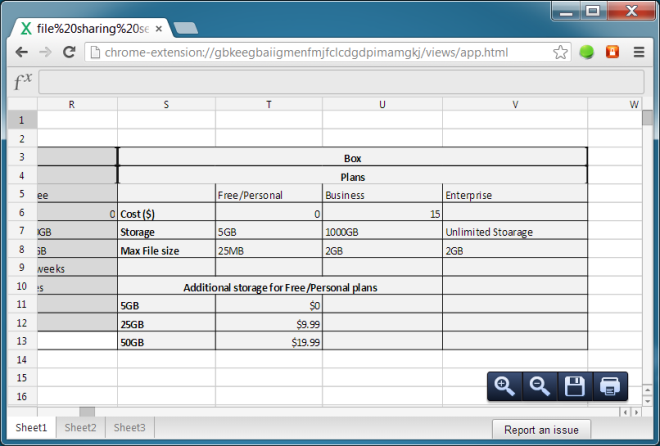 Chrome Office Viewer renders PowerPoint presentations quite well – better than most online viewers. A sidebar allows you to navigate to different slides, and the presentation can be viewed in full screen mode as well. The extension doesn't play the file as a slideshow though, and you have to switch to the next slide manually.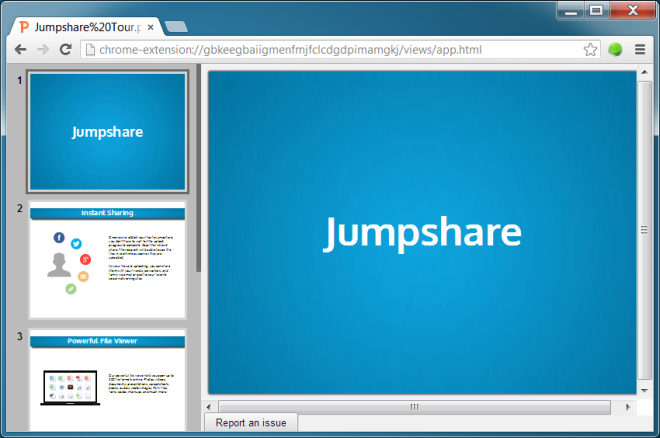 While it's all still experimental, we would like to see the extension show a document's title as the tab's title. The extension loads the files themselves very quickly, and you won't likely find a parallel to it. We tested the extension with files of relatively small size. Let us know in the comments how it worked for you. Do make sure you're using the latest Beta version of Chrome.
Install Chrome Office Viewer From Chrome Web Store