Access Folders And Apps' Shortcuts From Anywhere With Quick Menu
Sending applications and folders' shortcuts to desktop is rather not a good idea when your desktop is already overlwhelmed with too many items. What you can do to quickly access your favorite list of programs without cluttering up your desktop is install an application like Quick Cliq or Chameleon Folder to create a customized menu for applications and your favorite locations. Quick Menu is developed to let users quickly access both their favorite folders and applications from a highly customizable menu.
The concept was to let users create a customizable list of application and folder shortcuts which can be accessed from a single dedicated context menu. Quick Menu doesn't have any configuration console to place and sort added shortcuts; it creates a shortcuts folder in which you can add as many applications and folders shortcuts as you want. It resides in system tray, allowing you to rebuild, add and arrange shortcuts. However, you can use these options from its context menu accessible from Ctrl+Mouse middle click menu.
Use Ctrl + Middle Mouse click combination to bring up the application launcher, and from Quick Menu, select Arrange Shortcuts. It will open the shortcuts folder where you can place your favorite applications and folder shortcuts.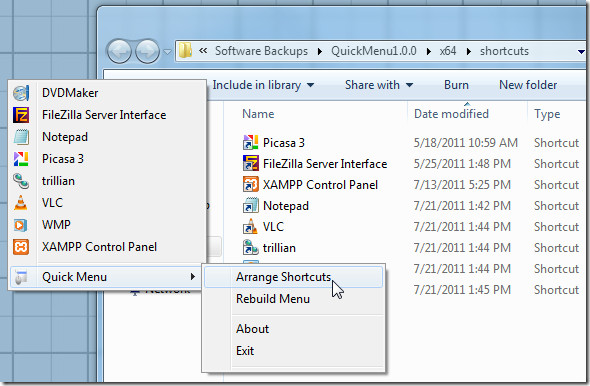 You can access its menu from anywhere, including, Desktop, Windows Explorer, or from any application's UI.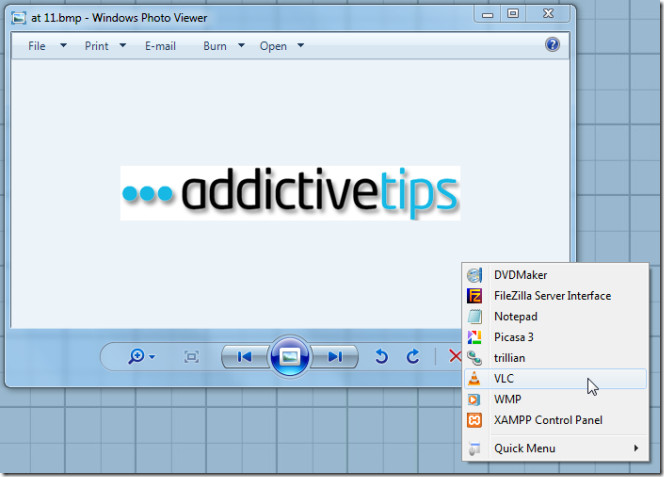 Quick Menu works on Windows XP, Windows Vista, and Windows 7. Versions for both 32-bit and 64-bit OS are available.