ActivePresenter Is Probably The Best Free Screencast Tool Out There
If capturing screencasts is one of those niches that you frequently perform to create how-to guides, tutorials or other software demonstrations, then a conventional screencast tool would hardly suffice the job. What you need is something more stupendous and feature-rich, such as the Adobe Captivate or Camtasia Studio. Then again, these software solutions don't come cheap. ActivePresenter is another alternative that you'd definitely want to give a try. Although available in Standard and Professional flavors, the Free Edition will pretty much do for most users, providing almost all the options and settings available in paid variants, with the exception of a few. ActivePresenter's screen capturing process is not quite different from most other screencast tools that you find on the internet. However, the real fun starts in the post-production of your projects, where ActivePresenter achieves so much more than a conventional screencast utility. It's a complete solution to capture, annotate, modify and export on-screen activity to high quality video formats.
The software's splash screen presents your recent projects that you have worked on. It also lets you instantly start new a project by clicking New Capture or New Project, where the latter also lets you import PowerPoint, Image or other miscellaneous presentations.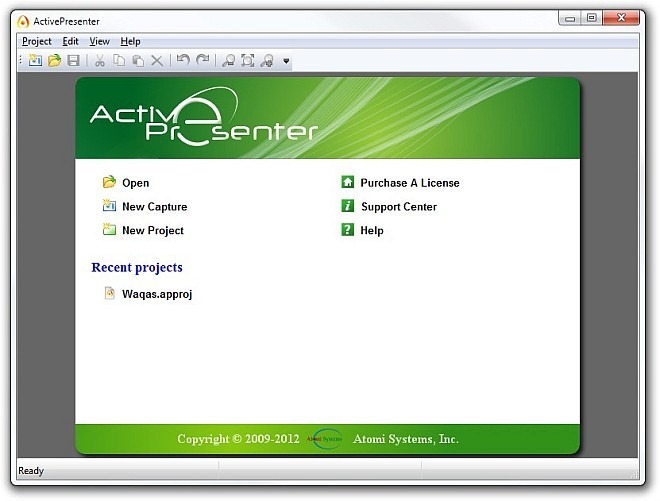 If it's the screencasts you want to create right from scratch – click New Project and then under Capture tab, select your Capture Profile, which includes Full Motion Recording, Smart Capture With Auto FMR and Smart Capture.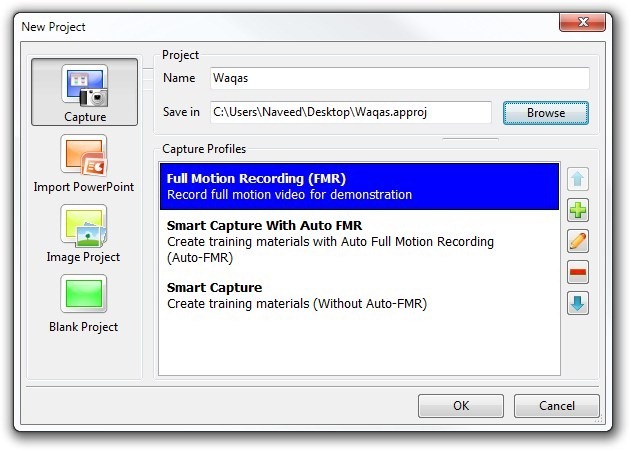 The application allows you capture complete desktop instances, a specific application or just part of your screen. Capturing a specific part requires you to drag and position the capture box to the preferred area. After making your selection simply click the OK button.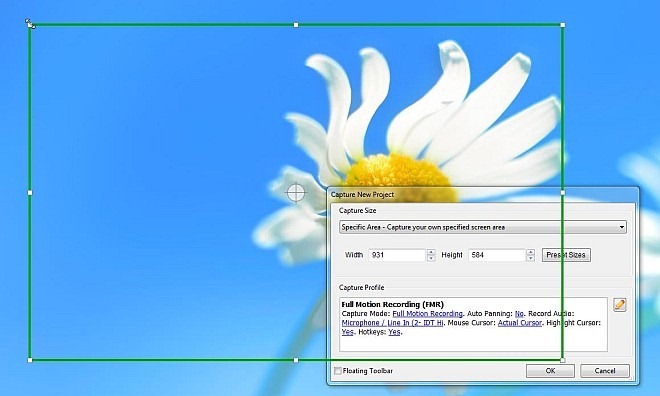 Underneath ActivePresenter's post-production editor window lies its real power. It's a one stop shop to completely modify the captured screens without invoking any external, third-party solutions. Akin to various professional video editing software, the application lets you work on your projects in layers, and all the layers can be altered, manipulated and modified from its Timeline. Timeline deals with each inserted item separately, which can be a video, audio, object, shape, caption, text etc. It also enables you to cut, join, split and rearrange videos, and in addition, you may insert Freeze Frames to suspend on screen movement for a while. The application allows you to specify various on screen actions such as mouse movement and clicks, key presses, cursor path, drag and drop actions and so on. In addition to screencasts, the application also allows you to take screenshots. The said function can be accessed from Slide menu. There's also a powerful Text to Speech feature included in the application to demonstrate certain things. You may also use your Mic. to record your voice, should you need to create voiceover.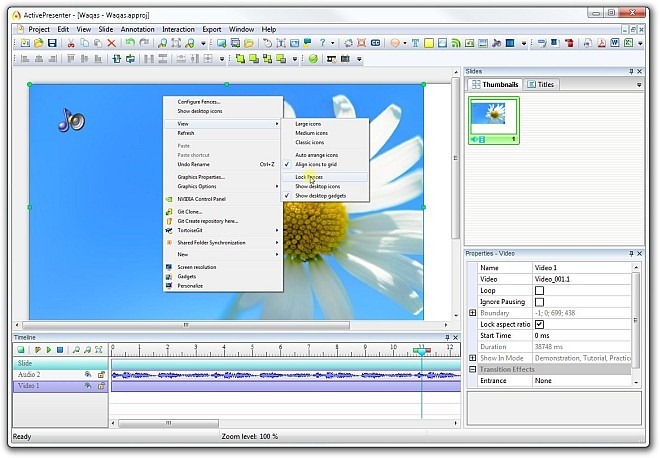 The completed projects can be easily exported to AVI, WebM, WMV and MP4 formats. Screenshots, on the other hand, can be saved as JPEG and PNG. Export To Video window lets you set various parameters before you process the final footage, such as configuring Audio and Video settings, format selection and output file directory.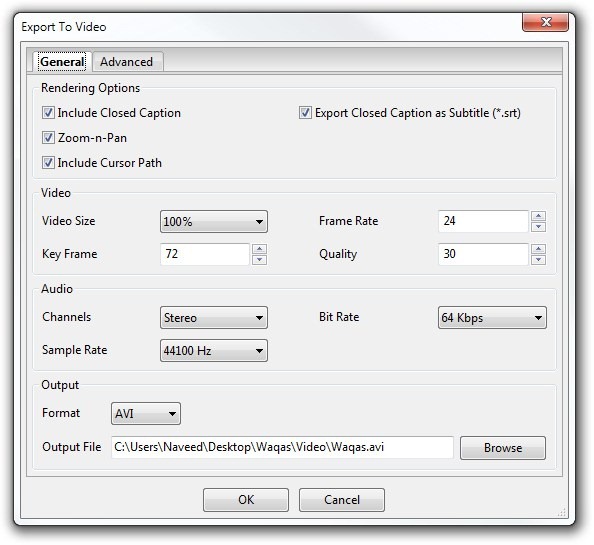 ActivePresenter is an awesome application that would definitely leave you highly impressed with its user friendly design and a multitude of options. The Free version contains a handful of features that are commonly found only on paid apps. The complete feature comparison among Free, Standard and Professional versions is also available at the developer's page. It works on all versions of Windows.