Add Accessories Menu To Windows 8 Right-Click Context Menu
Whenever Microsoft release a new version of their Windows operating system, there is no knowing whether it would receive an overwhelming response, or simply the other way around. One thing is common though, demand for Windows has always been seen skyrocketing, helping it to always win the most market share. With their another major OS release, the Windows 8, all eyes are now fixed upon it. Recently, Microsoft pulled the curtain via releasing Windows 8 Consumer Preview, throwing people in awe by juxtaposing both Desktop and Mobile platform with Metro UI. Yup, the operating system that you grew up with has been revamped, with a lot of major enhancements (and well, a few downsides). Along with many changes, one of the most significant, and most talked about change that the UI of Windows has experienced in the recently released Windows 8 Consumer Preview, is the removal of the Start Orb.
Even though some have labeled it as a step towards the future, most people have called it a blunder on Microsoft's part and we couldn't agree more. Sure, the Metro UI based Start Screen of Windows 8 lets you access apps through tiles, but other easily accessible and useful menus, such as the Accessories and System Tools menus, are very hard to locate. It means that to access even simple tools like the calculator, snipping tool or defragmentation tool, you will have to either configure their tiles first, or search them using the global search function. Why Microsoft did that and what should have been done to make it more accessible is just another debate, so today we will focus on helping you out to bring back the Accessories menu to a more accessible place, the context menu. There is no sophistication involved or tinkering things here and there, which you might not know of. All is done with a simple registry hack. Among all the useful tools coming out for Windows 8, this registry hack adds the Accessories menu to the right-click context menu of Windows 8.
To get started, just download the registry hack and run it directly. What the hack would do is, it will add a new Accessories menu in your right-click context menu with useful shortcuts, including My Computer, Libraries, Control Panel, Character Map, Wordpad, Notepad, Sticky Note, Paint, Calculator, Snipping tool, Regedit, Restart Explorer, Show / Hide, Restart and Shutdown.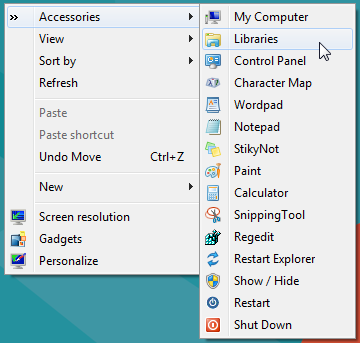 You can download the hack from the link provided below.
Download Accessories Registry Hack