Easy Way To Add Applications To Windows 7 Context Menu
With the start menu organization that began with Windows Vista, it can be a little irritating to start a program where you have to first click All Programs, then scroll down the list to find some software that begins with a late alphabet. While Windows 7 is a great OS, it follows the same pattern, effecting the efficiency and ease-of-use for users. To make life even simpler, Your Menu comes into play.
This tool will allow you to add custom menu items that appear when you click an empty space (desktop or folders) within the Windows 7 operating environment. Using these custom menus, you can quickly launch applications right from where you are, saving yourself time and hassle.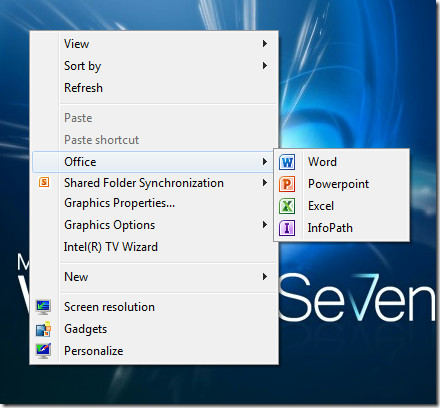 The software's executable will allow you to create two types of context menu items; single ones or cascading menus (like the one shown above). You get to define the menu name, name for each individual item and select the executable that goes with that item.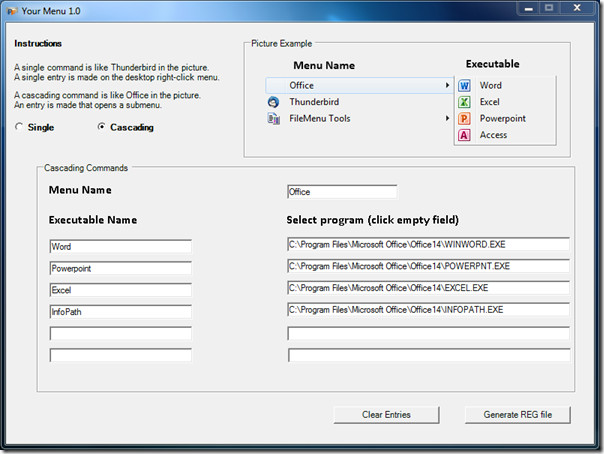 Once you have made the selections and entered necessary info, click Generate REG file to obtain the resulting registry files. The software will create two files, one for installation and the other for removal, in a user-specified location.

Double click the registry file to add the menu items, or use the undo one to remove any custom menus that you had already added. Please note that this will work only with Windows 7, and no other version of Windows. For more, also check out Context Menu Editor.