How To Add Shutdown, Restart & Log Off Tiles To Windows 8 Start Screen
Among many new things introduced in Windows 8, the Charms Bar is a UI element added to access different feature of the operating system, such as the Search option, Share, Start Screen, Devices, and Settings menu. While Microsoft has added some elements to the UI, they have also changed the functionality or the location of some others. The Start Orb, along with all the options included in it, is completely replaced by the Start Screen. Since the Start Screen is completely different concept from whatever was available in the previous versions of Windows, all the options available in the Start Orb are not included in the Start Screen. For instance, the shut down and other power options included in the Windows Start Orb are not available directly from the Start Screen, and you have to access the Charms Bar to access the shutdown options. You have to perform a lot more clicks for a simple operation, and a lot of people, included me, find that to be annoying. Today, we have a tool for Windows 8 called System Power Shortcuts that adds tiles on the Start Screen for Power settings, including Shutdown, Restart, Hibernate, Lock, Sign-off and Sleep.  It also allows you to perform delayed power operations at a user-selected time.
Other the the Charms Bar, you can also access the shut down menu by pressing Alt + F4 on the keyboard, but the System Power Shortcuts tool adds a separate tile for each shutdown option, clicking which performs the selected operation directly. The default way to turn off your computer is to first access the Charms Bar by moving the mouse cursor to the top, or lower right corner of the computer screen. Then, select Settings from the Charms Bar to open the Settings menu.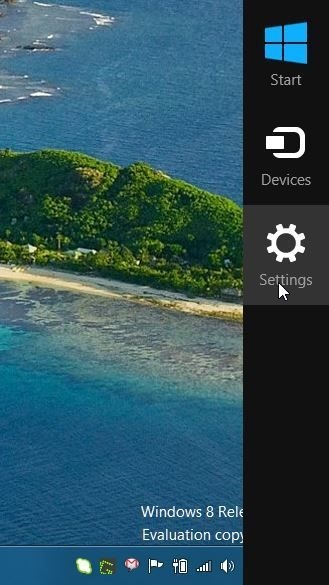 In here, click the Power button available in the lower right corner of your screen, and choose to either Sleep, Shutdown or Restart the computer. The Lock and Sign out of current account options are already available in the Start Screen.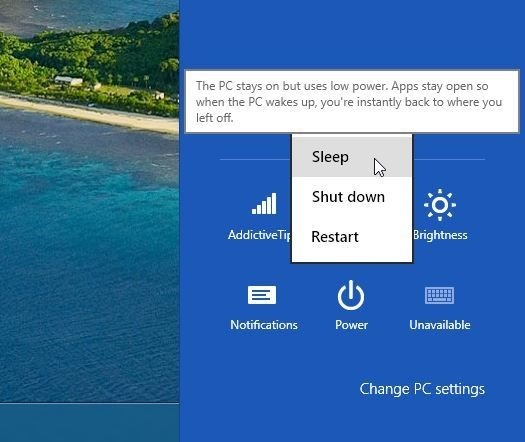 Once System Power Shortcut in installed on your system, you don't have to go through the whole exercise of opening the Power Settings; instead, you can just add a tile for any operation that you want to perform, from Hibernate, Lock, Sign-off, Restart, Shutdown and Sleep options.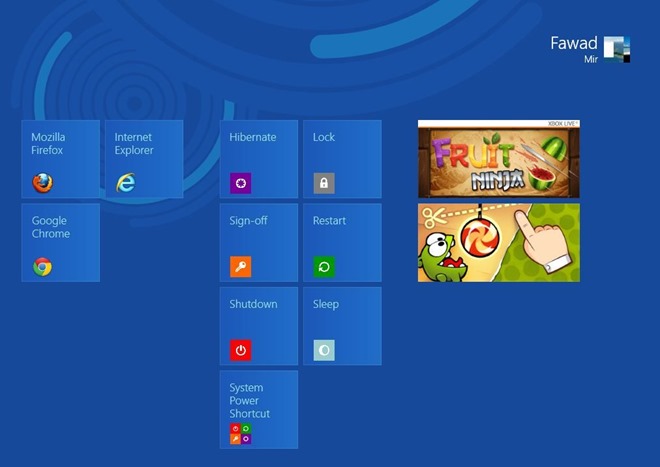 Click the System Power Shortcuts tile to open the main menu of the application. It allows you to perform the operations with a delay of 5 seconds, or at any specified time. You can change the delay and time from the lower left corner of the interface.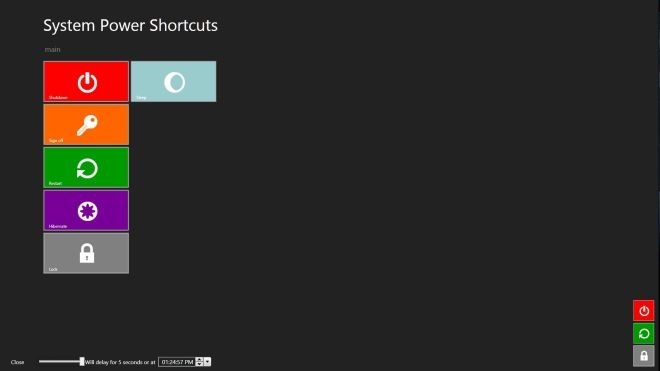 System Power Shortcut work on both 32-bit and 64-bit versions of Windows 8.
Download System Power Shortcut