Correct / Manipulate Timestamps Of Your Files With NewFileTime
Timestamps found in the properties of files contain information regarding when the file was created, when was it modified the last time and the most recent date and time when it was accessed by someone. This allows you to quickly search, as well as group together a certain cluster of files that were created, modified, or accessed at a particular date. For instance, if you want to find a bunch of photos that were created (taken) at a particular date, or even if you just remember the month, you can set the date filters that will narrow down the search and reduce the number of results. Then, you can easily find the required set of images from the results. Previously, we reviewed dtouch, an application that let you add and subtract time from the timestamps of files and folders, but it was limited in the sense that you could not define a particular time and date to the files. NewFileTime is a portable application that takes care of this problem, and lets you change timestamps for any file or folder. The application allows you to modify Date Modified, Date Created and Date Accessed timestamps of multiple files and folders in one go. You can either set a specific time, or add and delete pre-specified time from the current timestamps.
Multiple files and folders can be added by dragging and dropping them into the main interface of NewFileTime. Once files are added, set the date and time under New Folder & File Time for Date Modified, Date Created and Date Accessed timestamps. After all settings are done, click Set-Time button available to the left to change the timestamps of selected files.
If you want to export the files' time stamp list in TXT format, or copy them to the clipboard, click =>txt<= button and select Export. You can later import the files in the same way if you need to change timestamps of the same set of files. In the Import/Export window, click Export and select to File to save the list.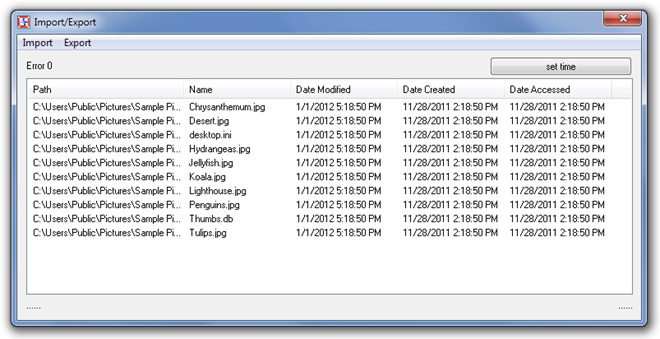 Other than specifying a particular time, NewFileTime allows you to add and subtract time and days from the existing timestamps. Select be older tab at the top to add time, and be younger tab to subtract time from the current timestamps of files and folders.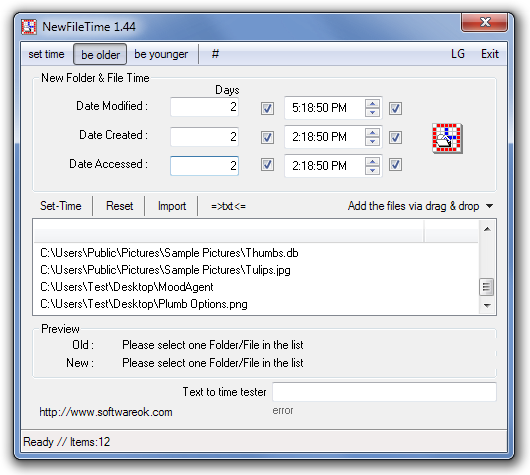 NewFileTime Works on both 32-bit and 64-bit versions of Windows XP, Windows Vista, Windows 7 and Windows 8.