Adjust Threshold For Closing Metro Apps Through Mouse & Touch Gestures In Windows 8
One of the main attractions of Windows 8 is its snazzy new UI. Formerly known as Metro, the new user interface is based on a tiled design, previously found only on Windows Phone 7 smartphones. Cosmetics aren't the only change around, but how you interact with the operating system has also been reworked. As Windows 8 is designed to work with both tablets and desktops, you actually use your mouse the same way as you use finger gestures on touch screen devices. This simply means that on Modern UI apps, there no longer are close, minimize or maximize buttons, and you'd need to drag the opened application from top to all the way down in order to close it. The same, if done on a touch screen device, is a lucid experience, as you only need to swipe your finger from up to down, but is an entirely different story on a mouse. Windows 8 doesn't let you specify the threshold required for the close behavior natively. If you want to control this behavior, or disable it entirely and rely on Alt+F4 instead, then what you probably need is Close Threshold for Metro Apps. This utility lets you adjust threshold for mouse, as well as touch gestures.
This minuscule application doesn't require you to configure any sophisticated parameters. On its interface, you find two adjustment sliders. Threshold for close via mouse lets you control mouse behavior, while on the other hand, Threshold for close via touch gestures slider is for touch screen devices (obviously), probably for the upcoming Surface tablet (and others that shall follow). Slide the threshold all the way to the left (Min), and you'd end up closing opened apps in an instant. The developer has also provided a YouTube video, explaining how you can control this behavior. When you select a threshold level, click Save Settings to apply your changes. You can also click Disable this method of closing the Metro apps to stop Windows from closing apps amidst dragging. The application allows you to reset to factory settings, too. If you want to go back to default behavior, simply click Reset to defaults followed by Save settings buttons.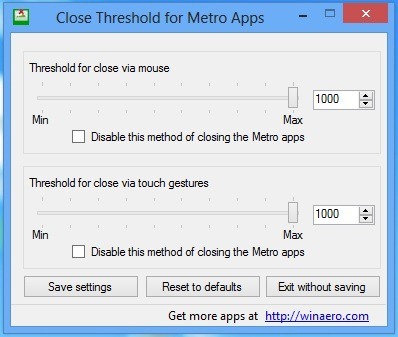 Close Threshold for Metro Apps is quite a useful application that provides an easy solution to adjust Modern UI apps' close behavior. It will come in handy when more and more Modern UI apps make way into Windows 8 ecosystem. The application supports both 32-bit and 64-bit versions of Windows 8.
Download Close Threshold for Metro Apps