Apis Ceratina: Automate Your Repetitive Tasks With Macros [Windows]
Applications which offers macros support are always highly preferred as it is one of the best way to repeat a set of performed actions to complete a task. MS Office suite applications are exemplary in this regard, where it is widely used to quickly repeat the set of actions for performing required task with an ease and in quick succession. Considering the importance, wouldn't it be great if you can use the same functionality in Windows to perform monotonous tasks with an equivalent pace?
Certainly it brings lot of convenience and prevent users from navigating manually through different locations to open applications or perform a set of actions to complete a required task. Apis Ceratina is an application which brings the same functionality very smartly. It offers Macros for recording a set of actions to let user play them back in future for performing the same tasks again, with a single keystroke or a mouse click.
The main interface is quite easy to get along and shows all the recorded macros in informatory columns. For bringing more convenience in using the application, it keeps a small menu handy for users on the desktop. You can view all the recorded macros by clicking its imaged button. Usage can't be easier, just open the main interface and click Record to start recording a macro. The system tray icon will show various tips which will guide you when using this program.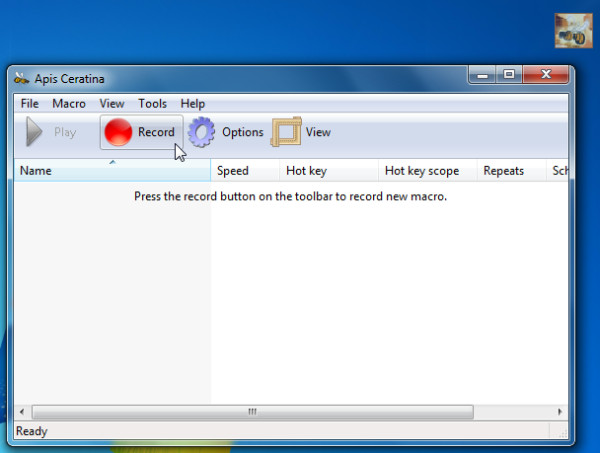 It is very vocal in terms of interactivity, it will immediately show a small macro player to let user pause or stop the macro recording. Now you can perform all the desired actions and tasks that you would like to record. After you've done recording a macro, click Stop to save the recorded actions in a macro.
As aforementioned, the small menu is always accessible, jut click it to reveal all the recorded macros and select one to perform same set of actions again. However, you can play it back from the main interface where it offers lot of other features and options, which we will touch a bit later. Selecting a macro will put everything behind and perform the recorded actions. You can record macros for filling out data forms, editing text, open set of applications, perform a complex task, and whole lot of other sort of actions.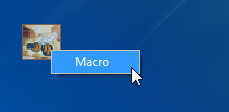 The main interface takes the handling of macros into depth. The best among the features is scheduling a playback of macro, which comes extremely useful to perform the recorded task on specified time and date. Right-clicking the macro will bring up all the relevant options from where you can schedule a macro playback.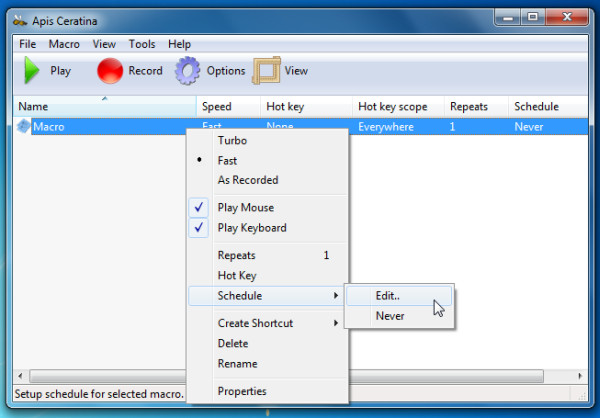 Any specified macro can be scheduled. A dialog will open where you can specify parameters with the macro task, protect it with password, and tweak other given options. Under Schedule tab, you can set date/time and specify number of occurrences on daily, weekly, monthly basis. The Advanced settings for scheduling a macro playback can also be configured by clicking Advanced button, it lets you specify starting and ending date and allows you to play it recursively after a specified duration.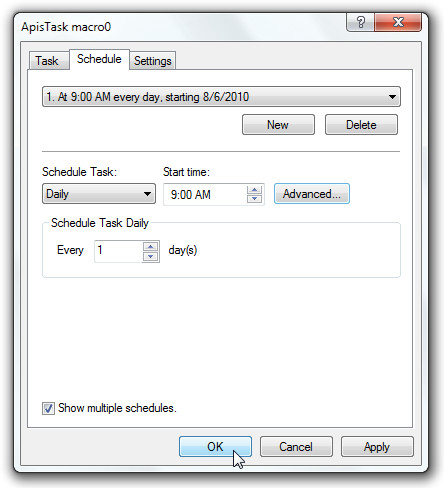 Options under Settings tab takes the scheduling of macro to the next level, you can specify to run the macro if system goes in idle state and make the schedule run on the basis on power management options such as; disabling task schedule if system is running on batteries, etc.
The application also offers a long list of other options as well, you can easily enable/disable playback of mouse pointer and keystrokes, manually repeat the macro, register hotkeys, create shortcut to different locations, delete the macro, and set  playback speed. Clicking Options will bring up setting window to configure application's settings and change generic options.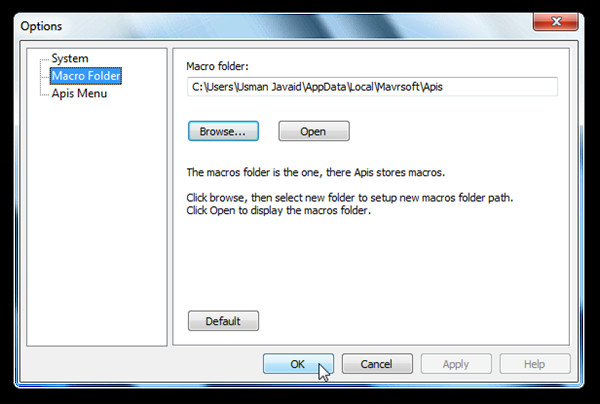 The application is worth giving a try, especially if you're bored with performing the same tasks over and over again. It features huge array of options to let you play recorded macros on-the-fly.
Update: Ouch! It turns out that the application is shareware and comes with 30-days free trial, it cost $29.95. Nevertheless, it is a very good application that does a great job in creating macros.
Application was tested on Windows 7 x86 system, it supports all Windows based OS.