Apply Aero Glass Effect According To Current Wallpaper With Aura
One of the recently revealed Aero Glass feature of upcoming Windows 8 is that it will dynamically change the Windows Aero Glass color according to current wallpaper. This will surely help users quickly change the Windows Aero colors rather than calibrating the Aero Glass effects manually. Aura is an open source tool which brings this novel functionality to Windows 7. This small application is not only capable of changing Windows Aero color according to wallpaper but can also get color from active window icon. Aura resides in system tray, allowing you to quickly bring it up when wallpaper is changed in order to match wallpaper color shades with Aero Glass effect.
The application is currently in beta testing phase, so you might come across some bugs. You just need to run the executable file to run it. Now from system tray menu, click Options to bring up options window.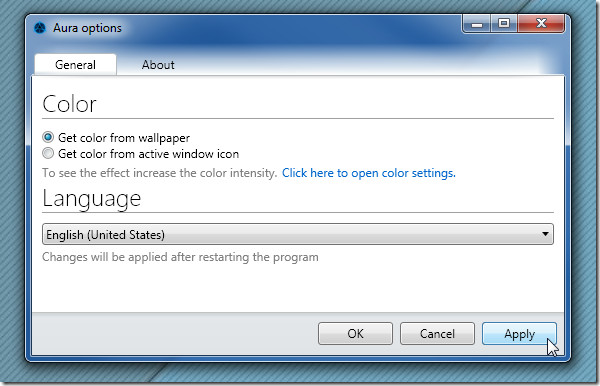 Enable Get color from wallpaper option and click Apply button to change the Aero Glass effect accordingly. In the screenshot below, you can notice the it changed royal blue Aero Glass color scheme to somewhat wallpaper matching Aero color scheme.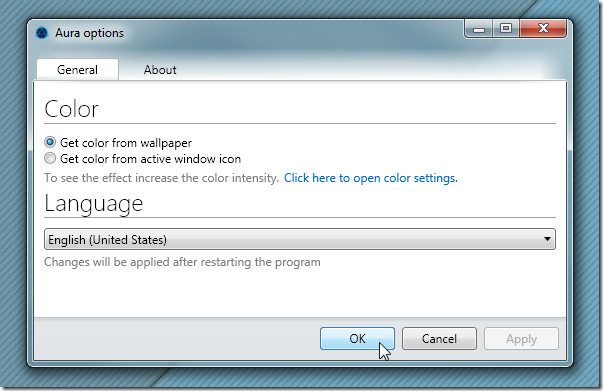 Below you can watch a brief demonstration video.
It requires at least .Net 3.5 framework to run.