Picturethrill: Apply Daily New Wallpapers From Bing, NASA, NatGeo & More
The desktop wallpaper has a lot of importance for someone who spends most of his day in front of the computer screen. The right desktop background can have a very pleasant and positive effect on you, which is directly proportional to your productivity and efficiency in your work. If your job revolves spending most of your time spending with animals, wallpapers containing animals might boost more energy in you and you end up doing your job more efficiently. Moreover no one likes to look at the same old boring screen everyday so its worth changing your wallpaper on daily basis. Realizing the fact that how important applications of new and fresh wallpapers are, we have been covering a lot of automatic wallpaper changing utilities lately, such as Color Desker, My Daily Space Wallpaper, Mourao Wallpaper Changer and Kuvva. Today, we have another open source wallpaper application called Picturethrill, This gorgeous looking application will automatically downloads new wallpapers from five websites and applies a new desktop background on your computer screen each day. Keep reading and see if its worth a try.
The application holds a black toned interface design. Currently, Bing, NASA, Earth Science, National Geographic and Nature websites are supported by Picturethrill to download images from. The URLs are preloaded into the application, and you don't have to do anything to start downloading images. The beauty of the application is that you can select only the required wallpaper feeds. You may apply the wallpaper either by double clicking on the thumbnail or by clicking the Wallpaper button at the bottom of the screen.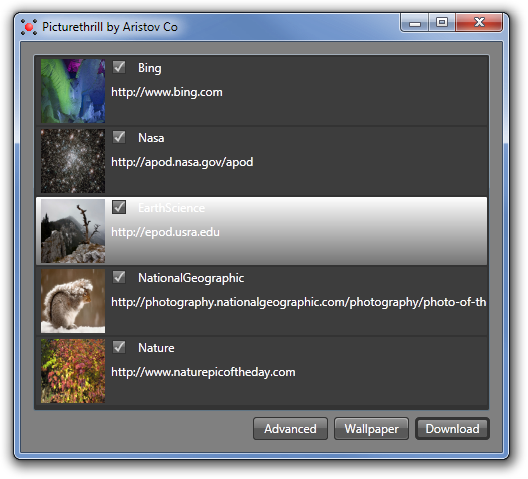 There is also and an Advanced button next to the Wallpaper, and clicking it opens up a small Advanced dialog box which lets you choose if you want the application to automatically download new pictures and set them as wallpaper. In addition you can also specify the download folder.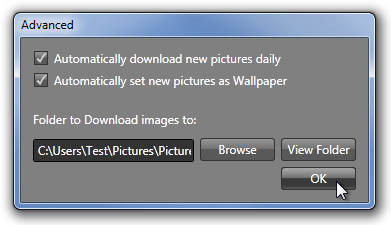 The application has no option to add custom URLs to download the wallpapers from. Other than that, you cannot view or download the next wallpaper in the preloaded streams. We hope that the developer includes these options in the next release of the application. Aside from all these, Picturethril is a lovely tool to easily download and switch wallpapers from popular sources. It works on Windows XP, Windows Vista and Windows 7. It supports both the 32-bit and 64-bit system architectures. For our review, we tested it on Windows 7 Ultimate.