Automatically Change Desktop Wallpaper With Mourao Wallpaper Changer
Your desktop background adds color and expression to your workspace, and generally, your character, personality and mood effect the choice of wallpaper for your desktop background. It can be anything from your favorite car to your favorite model, a famous quote from some popular public figure to a picture of your family. Some people like to keep one image permanently as their wallpaper (yeah, my brother is a perfect example), but others, like me, prefer to change their wallpaper from time to time, to keep the look fresh. If you have hundreds of wallpapers stored on your PC, keeping the same wallpaper all over the month doesn't make any sense. Mourao Wallpaper Changer is an application that automates the process of changing you wallpaper after a certain time. You might ask that we already have Windows 7's default personalization option for that. Well, the default Windows 7 wallpaper changer only lets you choose from a list of pre-set time intervals for changing wallpapers with one day as the maximum time allowed, whereas, Mourao Wallpaper Changer allows you to set a custom time interval as much as a week for automatically changing the desktop wallpaper. More details on Mourao Wallpaper Changer after the jump.
To start, select the folder which contains your wallpapers from the Working directory button at the top. Choose the Style for your wallpaper from Tiled, Centered or Stretched, and select the order criteria of images from Order by menu; you can choose from Random, Name (Ascending), Name (Descending), Date (Ascending) and Date (Descending). Select the time interval between image change by defining the Days, Hours and Minutes in the Time Interval section. The complete list of wallpapers in your folder will be displayed in the middle left side of the interface, while a preview of the selected image will be displayed on the right side. Click Set Picture As Wallpaper to set the selected image as the first wallpaper. The application has Slideshow Options at the bottom of the interface with settings to show the image name and change after a certain number of seconds. Click Start button in the toolbar at the top to begin automatically changing wallpapers.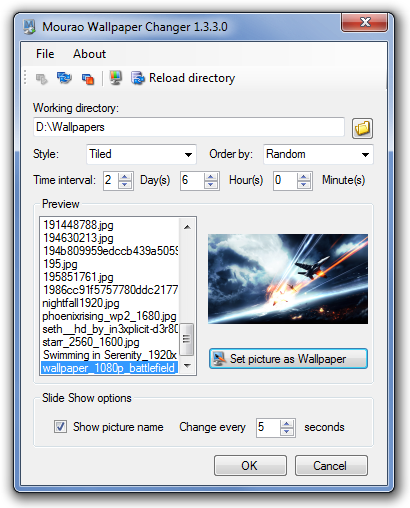 Mourao Wallpaper Changer is not a unique application but provides an additional option which should have been included in Windows 7 personalization option. It needs Microsoft .NET Framework 3.5 to run, and works on Windows XP, Windows Vista and Windows 7.
Download Mourao Wallpaper Changer