Give Facial Photos A Makeover With Perfect365
Many a times, photos end up appearing dull or with blemishes due to light and other variables that affect the image quality. In such a case, you might want to enhance the image quality, change the light effect and remove, let's say, pimples or other imperfections from a photo to make it look more attractive. Over the years, I have used many image retouching applications, but I have found none as good as Perfect365. It is a feature-rich application that detects face elements and allows tweaking them to perfection. With Perfect365, you can change anything from skin tone, eye size, teeth color to your face smile, eye brows, enhance & remove shine, etc.
Perfect365 only recognizes faces, so make sure that the image you load contains a face and is of a reasonable size (for face recognition).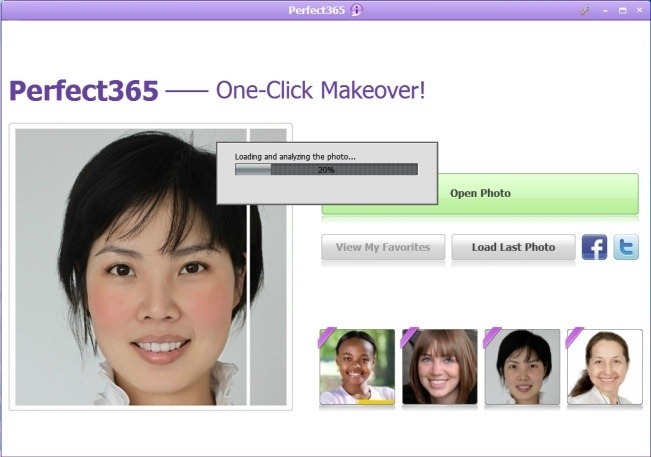 Once an image is loaded, you can retouch numerous aspects of the picture from the right side menu or select from the many presets in the left sidebar. These Instant Look presets provide a single-click transformation with options such as organic, natural, pure, smoky eyes, red lips, cat eyes, glam, spice, late night, night time and more. You can give a custom look to a selected image from right sidebar, which allows removing blemishes and circles, whitening skin color, softening skin color, removing shine from the face, increasing and reducing blush, slimming the face, lifting the cheeks, enhancing noise, changing eye color & eye lashes, changing brightness of the eyes and eye shape as well as adding lipstick, deepening the smile and changing the color of teeth. Once you have retouched an image, you can save it in JPG, PNG or BMP format.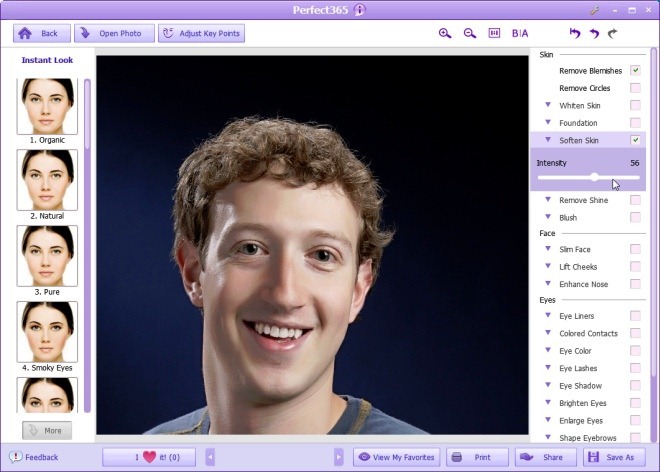 Below is the image that we retouched with this application. The left image is the original picture, followed by the retouched image on the right. For testing purposes, we retouched the image by lifting the cheeks, widening the smile, making the eyes larger in size and changing the skin color.

Perfect365 works on Windows XP, Windows Vista and Windows 7, with a release pending for iOS and Mac OS X.