Apply Windows Update To Multiple PCs From A USB Drive While Offline
Windows requires an active internet connection in order to notify you about important updates from time to time via the built in Update utility. Even though you can set different parameters regarding how updates should be downloaded and installed i.e. automatically or manually, Windows doesn't allow you to store an update's installation package to an offline storage, which could come handy to reinstall updates on a fresh Windows build, or to update multiple computers without requiring to re-download each update file on each machine, especially those gargantuan service packs. This is where applications like Portable Update jump into the game. It's a small portable program that allows you to download and save updates to an external drive, and then use the included update utility to install them on another computer.
Portable Update downloads and stores updates in its cache folder, which is automatically placed on the USB drive on which you'll be storing and running the program. Once the updates are copied to this folder, you can use the integrated update feature – which basically uses Windows Update API – to install them to any Windows system you want. Lets find out how it works.
To start off, download the ZIP file via the link at the end of this post, and extract its contents to a portable drive. Once launched, the application asks you to download some additional Windows files require to run the program; simply click Yes to let it download them. You can also click the Start button at the top-right to perform the said task.

After downloading the necessary files, the application takes you to its main interface, which carries multiple tabs at the top named History, Search, Download, Install, Services, Settings and Log. The History tab displays a lists of updates already installed on your machine.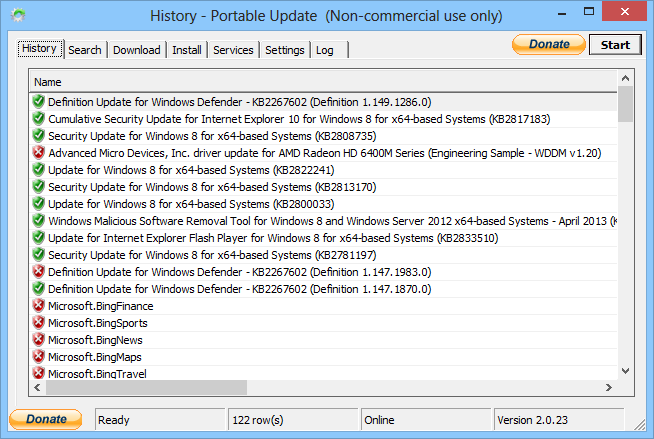 The first step is to click the Start button under the Search tab, which makes the tool look for the available update files. This may take anywhere from a few to several minutes depending on how many updates are available. Once examined, Portable Update displays the total number of updates found.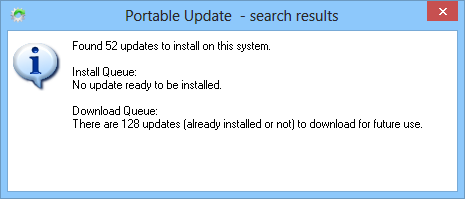 In addition, the list of updates automatically appears under the Search and Download tabs. The next step is to download and install these updates. All you have to do is click the Start button under each tab to get it done. Just connect the USB drive on the target computer when installing updates. The application lets you choose which update files you'd like to download and install by marking them in the list. In addition, Portable Update also lists the services available to run the update process under the Services tab.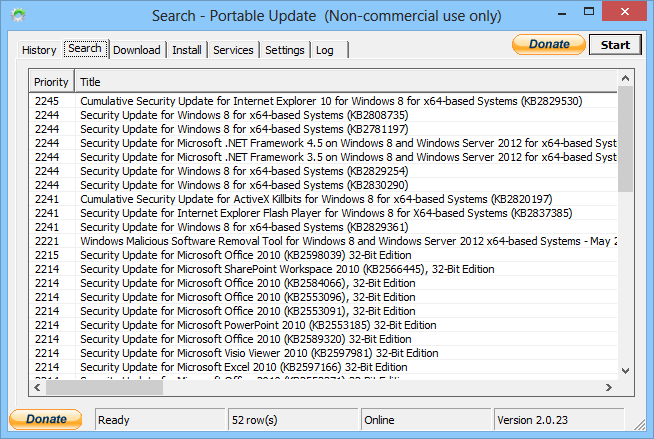 The application works on all Windows versions from Windows XP and upwards. Testing was carried out on Windows 8 Pro, 64-bit