Asa Log Viewer Shows Logs Of Windows Current Events By Log Type
Asa Log Viewer is a simple application which allows you to view current Windows logs. As far as the functionality is concerned, it's quite different from previously featured log viewers and analyzers, Vlogger, LogExpert, and MasS Log Viewer, just to name a few. Its primary focus is on all the major Windows devices and elements which may throw exceptions while running or working in background. Since it's not easy to identify the culprits for Windows errors, it, in contrast to Windows Event Viewer, enables user to check if specified Windows elements have thrown any exceptions or not. Take Internet Explorer as an instance, what would be best way to identify the problems you face with IE. You might search for log files to see conflicting instances which prevent IE from working properly, but with Asa Log Viewer, you just need to select Internet Explorer from the list and choose Errors Only option to view all the error logs that have been reported by Windows for Internet Explorer.
From the main screen you need to choose the Windows elements, which includes, Hardware, Internet Explorer, Key Management Services, Media Center, Microsoft Office Alerts, Security, Applications (it further includes many other application specific Windows elements), Windows PowerShell and so on. Next to it, choose whether you want to view Errors only, Non-Errors or All log files.  When done, click Go button present next to pull-down menu to start finding all the specified type of log files.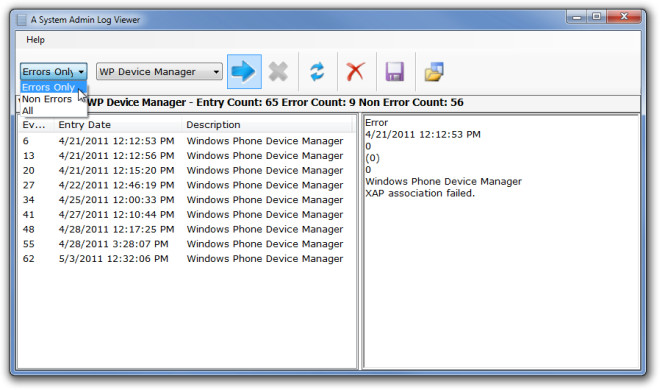 The main window shows the log file with description and time stamps. When you want to view one specific log file, select it to open the log file in right pane. Next to log delete and refresh buttons, you have option to save the log file in TXT format and open Windows Event Viewer. Asa Log Viewer is nice tool to quickly list logs for certain Windows elements, but it would've been more useful if it could extract error and non-error logs from user-specified log file as well. It works on Windows XP, Windows Vista, and Windows 7.