Audacity 2.0 Update Brings Lots Of Bug Fixes & New Features
Finding the right tool from so many audio editors in the market that exactly matches your needs is a difficult job. There are a lot of tools out there that can perform simple editing tasks, such as converting audio files into different formats, splitting them, or just cutting a part out of the complete song or recorded audio. However, if you want to perform advanced audio editing, most people have to use paid software. Audacity is a widely popular open source free audio editing and recording program that matches in functionality to a lot of paid audio editing applications. Recently, the developers of Audacity have released an update, Audacity 2.0. In this article, we will have a look at the major changes in the application.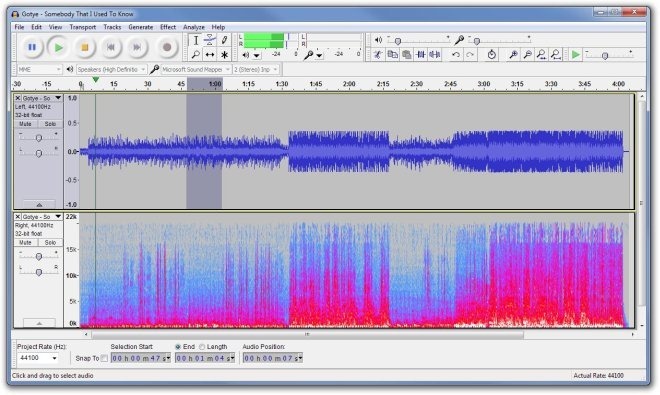 The have been some very important bug fixes, as well as new features included in Audacity 2.0. Some of the bug fixes for Windows, Mac OS X and Linux are:
Labels now accept the lower case "z"
Pressing Stop after recording will not cause a crash now (Windows)
Fixed hotkeys interfering while typing in file open or save windows (Mac OS X)
Now fully supports Unicode (Mac OS X)
Playing tracks during recording in mono sometimes caused recordings to be distorted or low pitched (Linux)
Audacity 2.0 features a ton of new enhancements. Some of the major ones are as follows:
Many effects, including Equalization, Noise Removal and Normalize are significantly improved. Vocal Remover now includes plus GVerb on Windows and Mac. VAMP analysis plug-ins are now supported
Improved labeling of tracks with Sync-Lock Tracks feature in the Tracks menu
Audacity now supports multiple clips per track. Tracks and selections can be fully manipulated using keyboard hotkeys. Many more keyboard shortcuts
New Device Toolbar to manage input and output devices. Timer Record feature and new Mixer Board view with per-track VU meters included
Automatic Crash Recovery in the event of abnormal program termination
Fast "On-Demand" import of WAV/AIFF files if read directly from source
FLAC format is now now fully supported. Moreover, added support for optional FFmpeg library for importing and exporting AC3/M4A/WMA and extracting audio from video files
The complete documentation on release notes can be found here. Audacity is both feature-rich and flexible to cater the needs of a large user base. It keeps the work space uncluttered by relegating most functions, like effects, editing, generate and analyze, in easily accessible drop down menus.