Auto Mute Turns Off Windows Startup Sound
Has your kid, co-worker, or room mate ever got disturbed by the loud Windows sound when you switch on your laptop/computer? Do you hate Windows sound and want to disable it? Auto Mute is a dead-simple tool that has been developed for the exact purpose.
The developer behind this app got frustration when his kids woke up by the sound of Windows starting up and finally coded away a nice little program to silent the system sound.
This app simply turns off the system sound during log off, suspend, or stand by mode so that the next startup is quite. Just start the app and make sure all desired options are checked. You can also switch the sound on/off by pressing a simple custom hotkey.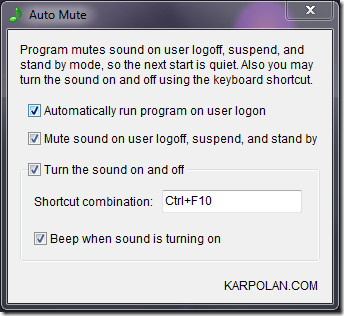 It is a portable tool and works on all versions of Windows, including the latest Windows 7. Enjoy!