Auto ShutDown Windows At A Specific Date Or Time
Editor's Notes: Auto shut down is one important feature that Windows OS lack. It would be great if Microsoft adds support for Auto Shutdown in Windows 7. It will surely save the burden of having to use 3rd party tools for such basic function.

Do you want to shut down your computer at a specific date or time? If you are a  computer or network administrator, you might sometimes need to shutdown, restart, or log off the system at a specific date or time.
Morteins ShutDown is a free tool for Windows OS that lets you shut down, reboot, log off, and power off both local and remote computer at any specific date of time. Those running applications that prevent your system to shut down can also be automatically killed. You can also setup this tool to warn you a few minutes before initiating shut down.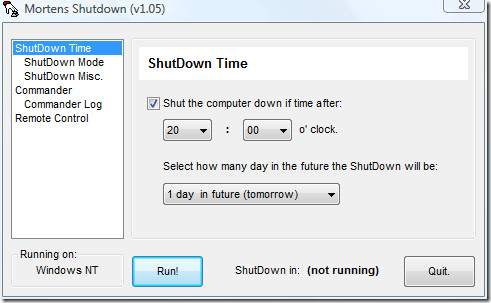 You can select which shutdown mode to apply such as Log Off, Reboot, Power Off, or Shut Down by going to ShutDown Mode from the left sdiebar.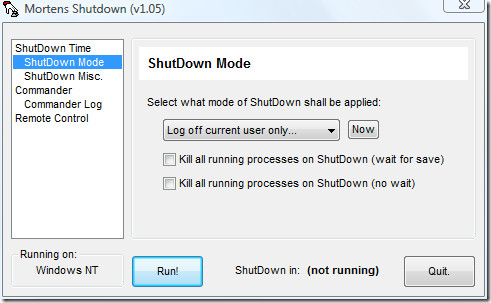 It can also be used to control the launch of any application (from a remote computer) via an INI file. You will have to setup a folder from where this tool will pull the INI file and react on the changes made in it.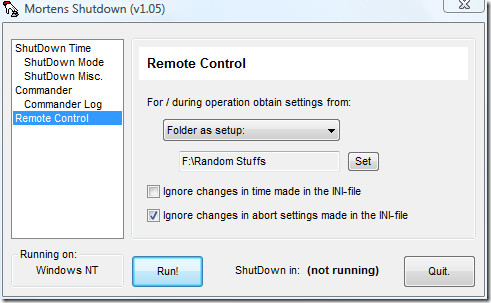 Once all setup have been done, click Run and it will run silently in the system tray.

You can Stop the operation anytime by opening this tool again and clicking Stop. To open the tool click the Mortens icon in the system tray. Enjoy!