Automatic Wallpaper Switcher With Multi-Monitor & Collage Support
We all love changing wallpapers. In fact, it's one of those tasks we frequently perform. Even though Windows 7 provides integrated wallpaper switching functionality, it's not as robust as it should be, and is neither very feature-laden. Earlier, we took an inside look at John's Background Switcher – probably one of the most comprehensive wallpaper utilities you can find over the internet. The software was both feature-rich and intuitive, and left us utterly impressed. However, not everyone wants to play with plethora of options and settings, and some simply need simpler and minimalistic solutions. Today, we have a wallpaper application for you called WallSwitch. WallSwitch, as the name implies, is a handsome software to easily switch your desktop wallpapers, either using hotkeys or by setting predefined time intervals. What makes it stand out from default Windows 7's Personalization menu, is its multi-monitor support – which means it can set separate background for each screen. You can make multiple profiles and set different configurations for each of them.
There isn't anything fancy about the application, as it looks and feels quite simple. At the top is the Theme section, from where you can create, rename and delete your profiles via their respective buttons. There is no limit for how many profiles you may create and how many images you add to each of the profile. When you are done creating a new profile by clicking New button, the next thing you need to do is add your images. Apart from adding photos from local directory, you may click Add Feed to the left to grab wallpapers from various websites. Simply input the feed URL and specify Update Interval for the feed, and click OK.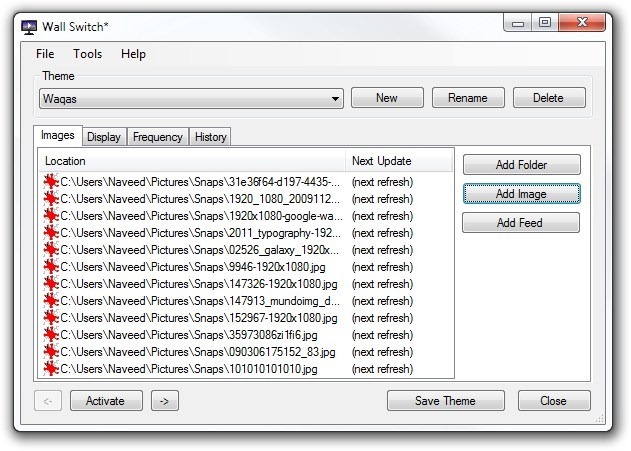 Under Display tab, you can specify wallpaper Mode, which contains Sequential, Random and Collage. Collage mode is rather interesting, which automatically selects a background image from your selected files and keeps pasting further photos over it, creating a collage effect right on your desktop. Furthermore, you can select Background Color for top and bottom of the screen, and the wallpaper's orientation.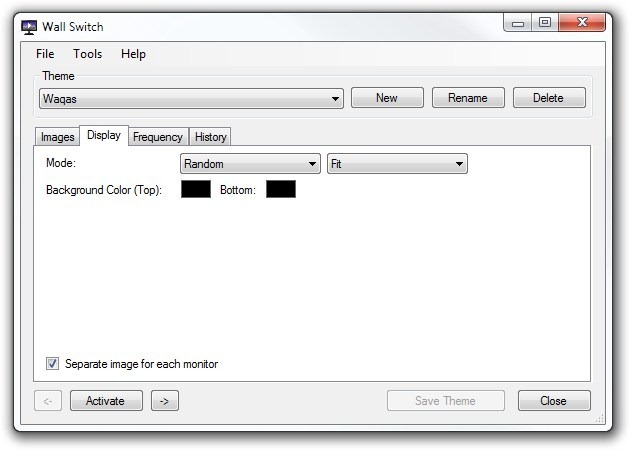 Now, head over to the Frequency tab to specify time interval between wallpapers switch. It can be set in seconds, minutes, hours and days. In addition, you may also define Hot Key combination for manually switching your desktop background. When everything's in place, click Save Theme followed by Activate to employ your changes.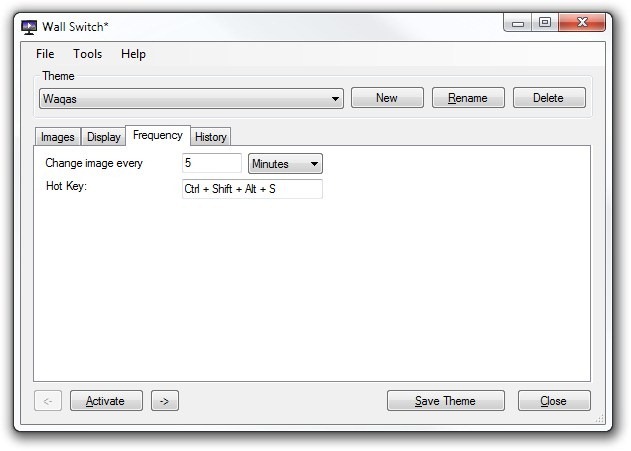 Lastly, there's also a History tab, which shows all the wallpapers that have ever been switched from within the app, making it easy for you to jump back to any previous wallpaper should you want so.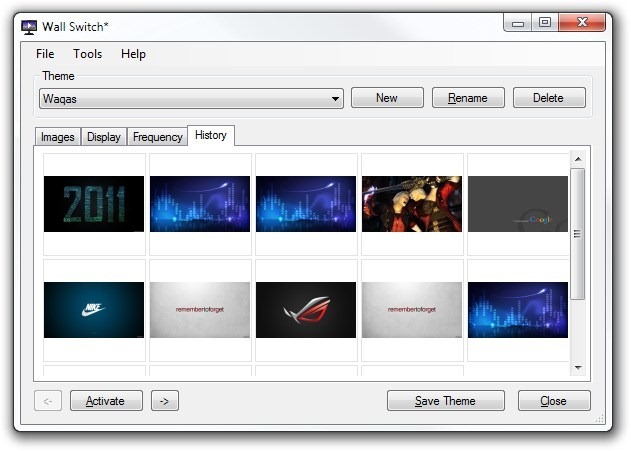 WallSwitch is an open source application and works on Windows XP, Windows Vista, Windows 7 and Windows 8. Both 32-bit and 64-bit OS editions are supported.