Automatically Batch Rename Movie Titles With SimpleMovieRenamer
Downloaded movies torrents do have some weird titles, sometimes you get to see strange characters along with tracker source, ripper nicks, codecs names, etc. Changing name of each movie file/folder is undoubtedly a laborious task, as each folder and file has to be renamed. SimpleMovieRenamer is an open source application developed to automatically change the movie folder/file name without having to mess up with titles manually. It's an ability to get the suggested movie name from two famous online resources – Allocine and MovieDB.
With this application, all you have to do is to drag & drop movies folders/files over the main interface. You can always select multiple files/folder and drop them over in order to rename files in bulk. Once listed, you need to choose the online movie resource either Allocine or MovieDB. Now click Search to let it suggest you new titles for listed movies. Movies titles can be changed in bulk as well, press CTRL on keyboard to select multiple items in the list and then click Rename button to change the movie files/folders titles with suggested entries.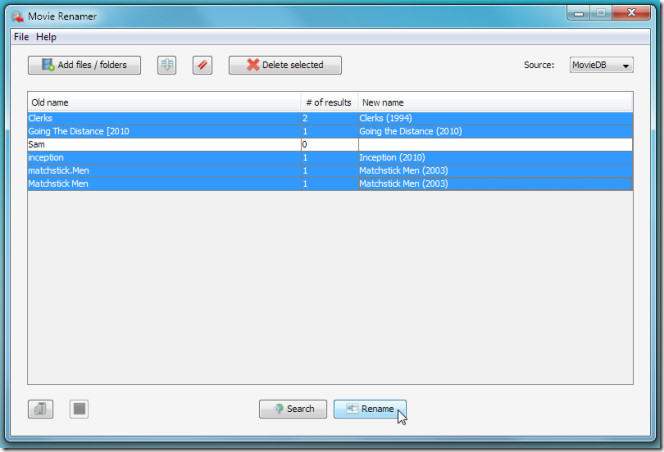 If you've downloaded hundreds of movies torrents and don't want to change movies titles manually, this application will certainly prove to be a time saver. It works on Windows XP/Vista/7, provided you have JRE installed. Testing was done on Windows 7 x64 system.