Skype Auto Recorder: Automatically Record Voice Calls From Defined Contacts
In our guide to supercharge your Skype experience, we recommended CallGraph Skype Recorder to capture voice calls and save them at defined output location. The application comes handy in situations where you need to control voice call recording from an on-screen recorder, as it allows you to start, pause and stop the recording with a click. It records all the voice calls that you accept, and doesn't allow specifying Skype contacts whose calls are to be recorded automatically. Today, we came across an open source extension for Skype, namely Skype Auto Recorder, that lets you apply voice call recording filters, so you can record voice calls of only specific contacts. Moreover, the application starts recording voice calls as soon as you accept them, and saves the recording in MP3 format.
When the extension is installed, open Skype and click Allow access to let application automatically record voice calls.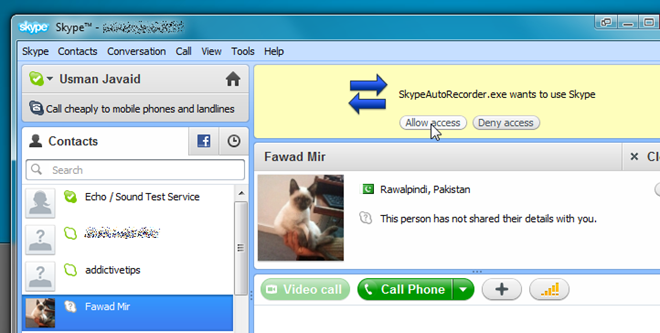 Clicking Allow Access will send the extension to system tray. You can access the Settings dialog from system tray's right-click context menu. It lets you auto start the extension with Windows logon, create  Skype contacts filters, and enable/disable recording of voice calls from unfiltered contacts. If you enable recording calls from unfiltered contacts, it lets you choose a separate folder to save the call recordings. Underneath it, you will find an input box for specifying contacts whose calls are not to be recorded. Here, you can also adjust the call recording volume using the volume adjustment slider. Once all settings are in place, click OK to save the changes.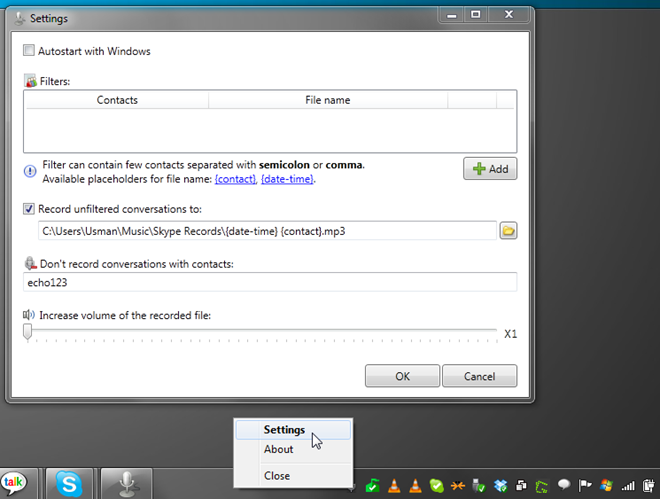 It will automatically starts recording call when you accept it, and show a small recording sign over system tray icon that indicates that voice call is being recorded.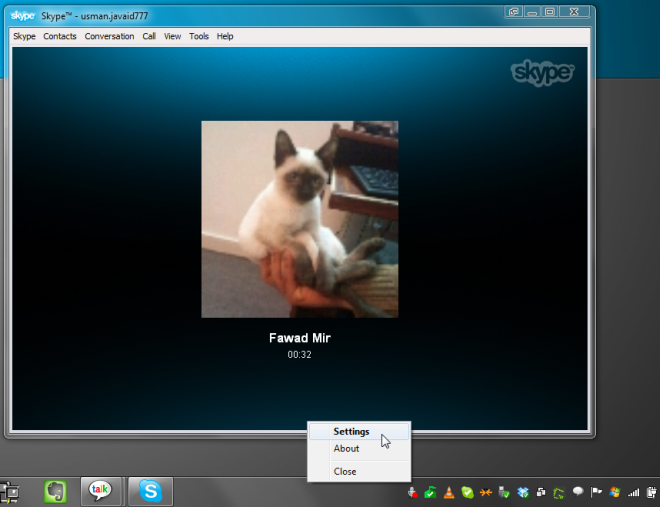 When call is recorded, you can verify the recording from specified target folder. It saves MP3 file with following attributes; channel – mono, bitrate 64 kb/s, sample rate 16000 khz.. Although the extension is in beta testing phase, it doesn't throw any exception while recording the voice calls. We tested it on Skype 5.5, and supported versions are Skype 5.0 or higher.