Automatically Switch / Change Mouse Speed
Automatic Mouse Switcher is a great open source tool for those users who prefer using different mouse speed settings for external mouse and touchpad. Suppose you are using two different mouse with your laptop – one at home and other in office. Because every mouse is different, you will need to change the mouse speed almost daily when you commute between work and home. And what about using your laptop with the touchpad? You cannot use the same speed of your external mouse with laptop's touchpad.
If your mouse sensitivity is almost same for all mice, then you do not need to use this tool. Otherwise if you fall in the above situation, Automatic Mouse Switcher is a great tool to help ease the pain.
What this tool does is to simply allow users to add all devices and set a separate mouse configuration for each one of them.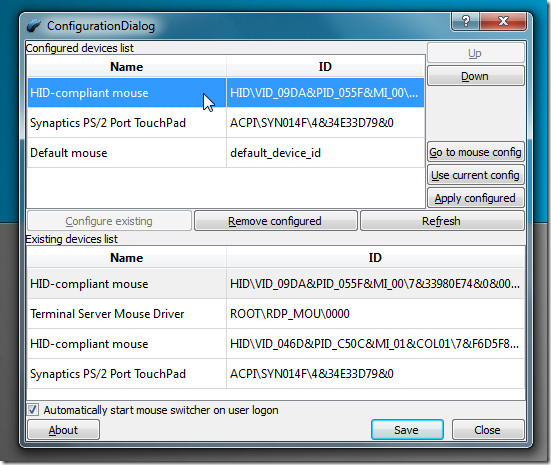 All detected devices are listed at the bottom half of the interface. This list is automatically refreshed when new device is detected. Select the ones which you want to configure and hit Configure existing. Once you have added all devices that are to be configured, select each one of them, hit Go to mouse config to set mouse speed, and finally hit Use current config to apply settings.
Now all is set, you just have to make sure the devices are listed in order from top to bottom because this order defines priority. To apply the configuration, hit Apply configured. Make sure to hit Save to save all configured devices list.
It will work fine on all versions of Windows, we tested it on Windows 7 x86 system.
Download Automatic Mouse Switcher