Autorun Manager: Disable & Re-Enable Autorun Feature In Windows
Whenever you plug in or insert a new device into your computer, Windows tries to automatically run it for you. Sure that is convenient, but this is one of the most common ways that viruses spread in to systems. If you plug in an infected USB flash drive or a CD drive, the Autorun feature of Windows automatically executes an autorun.inf file located in the root of removable devices. This option can be used by malicious programs to run any unwanted script or program on your computer if it contains some malicious code to gain administrative privileges on your computer. The damage can be anything from someone else using your computer to stealing files from your computer. Previously, we have written an article to guide you through the process of disabling Autorun behavior in both Windows 7 and Windows 8. We also covered a tool called Windows 7 Autorun Disabler that allows you to disable autorun feature for CD/DVD Roms, Ram Disks, Removable devices and Network Drives. Today, we have a portable application called Autorun Manager, which lets you quickly disable and re-enable autorun feature for a lot of devices. More on Autorun Manager after the break.
The application is really simple in the sense that it has only one main window that allows users to control all the available settings. You can disabling and enabling the autorun feature of all the devices without going into complex menus. Other than the normal CD-ROM/ DVD-ROM, Removable Devices, Network Drives and RAM Disks, Autorun Manager lets you disable autorun also for unknown devices. There are several options with different combinations of devices for easily and quickly disabling them. To disable a device from performing autorun, just select it from the list and click Apply.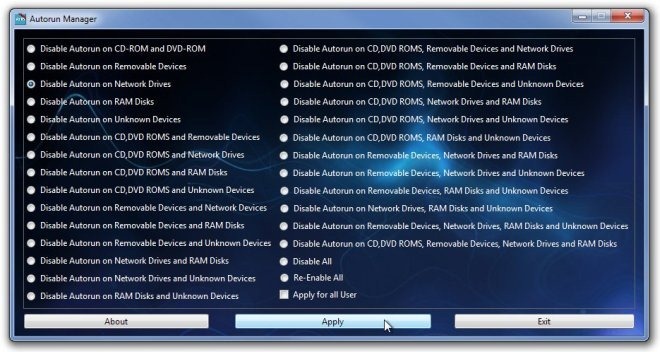 The Disable all option disables autorun for all the devices. If you want to activate the autorun feature again, select Re-Enable All and click Apply.
During testing, I felt that there should be an enable feature for every option. Instead of the current selection boxes, it would be better if each option has a checkbox and lets you choose more than one option at one time. Other than that, no doubt that because of all the options being available on the main interface, it is very easy to use the application, however, it can take a lot of time if someone is trying to look for a specific settings. Having different categories can take care of the clutter problem. The application works on both 32-bit and 64-bit versions of Windows XP, Windows Vista, Windows 7 and Windows 8.