AutoStarter: Quickly Launch List of Favorite Applications
AutoStarter is a time-saving application that lets user create a list of their most-frequently used programs. With this application, you do not have to search for your important programs scattered around in multiple locations. Just create a simple list of all executable programs that you use most frequently and launch all the listed applications instantly.
You can use this application to create many different lists, which you need to access from time to time. For instance, you can create separate lists for work-related documents, favorite music tracks, internet browsers, instant messengers and so on.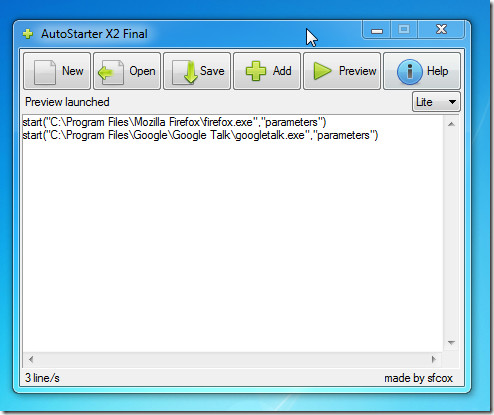 Make a new list by clicking New option. Click Add button to select a category from the given list which includes Application, Web page, Message OK and Message Yes NO. Specify the location of application to populate the list. You can confirm that the selected programs have been added successfully by clicking Preview. Once the list is verified, you can save it. This tiny application proves to be a time saver which can open list of all programs, files and documents, as and when needed.
It runs on Windows XP, Windows Vista and Windows 7; testing was carried out on Windows 7 x86 system.
Download AutoStarter (Softpedia link is provided because the author's link is down)