Back4Sure: Portable Backup Software [Windows]
Back4Sure is a freeware portable tool for making backup copies of your documents, pictures, music, videos and anything you find valuable. It can backup files from different drives and folders to a specified target directory. To make backup process more quick, it enable users to make incremental backup, i.e, copy files that have changed since last backup.
Select flash drive, external hard drive or network share as backup target. It supports file compression (zip, 7zip), clean-up option to remove orphaned files in the target directory, and provides a lot of options to prop-up backup process and make it more convenient to use like: File type filtering, Compression level and types, Cleanup modes, and Logging.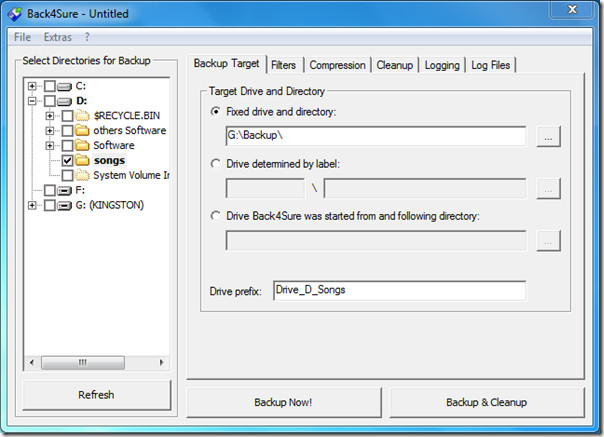 You can choose advance options to optimize back-up process. Hit Filters tab to configure different filtering options, Compression to choose compression types and levels. Choose drives/folders from left pane, specify target directory for back-up, and hit Backup Now! to begin the process.
There are ten directory level compression and two archive container formats Zip and 7Zip.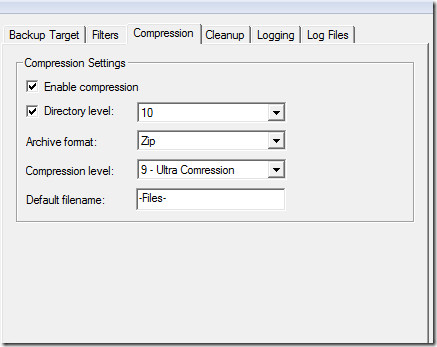 You can save the job for resuming it later, head over to the Extras menu and hit create Desktop Link. A dialog box will pop-up showing options of create desktop links for quick backup and other functions.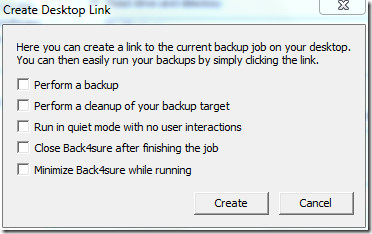 Download Back4Sure (located in the left sidebar)
It runs on Windows 7, Windows Vista, Windows XP, Windows 2000, and all other versions of Windows. For more, also check out Ocster Backup, Simple Backup, FileMyster, and Duplicati.