Backup, Restore And Verify Disk Images With ODIN
ODIN is a freeware utility to backup and restore hard drive volumes, and even complete hard drives for Windows-based operating systems. ODIN can be run in two modes i.e. with a GUI or from a the command line. You can create or restore an entire disk image of used clusters, and run snapshots from command line or with the GUI (Graphical user Interface). The command line mode can be useful for automating tasks running from scripts. Odin also provides the utility to verify backup image to check for damaged disk image files. The created backup files can be split into different chunks and burned on a CD/DVD or saved on the local drive.
To backup a volume or the entire hard disk, select Backup option, choose a volume, a destination folder and click Start to initiate the backup process.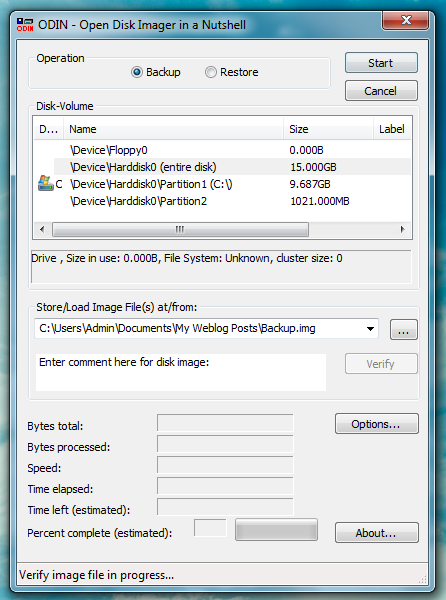 Before backing up volumes you can also choose to save only used block, save only used block and take snapshot, save all blocks, select a compression type (No compression, GZip or BZip2) and optionally choose a image file chunk size (in case you wish to split image files). Splitting of the image file chunks can help create precise blocks for writing them on a CD or DVD (e.g. 700 MB or 4.3 GB).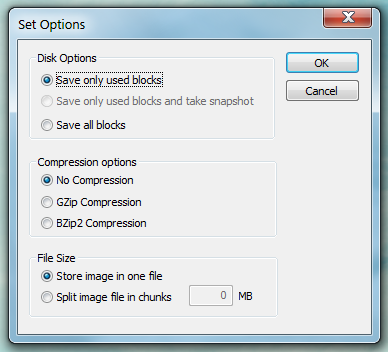 Once the backup process is complete, you can restore your disc image anytime by selecting the Restore option, specifying the disk image file and clicking Start. To use the command line option, enter the commands in the "Enter comment here for disk image" text box. If you would like to verify a disk image (IMG or MBR) then select the image and click Verify.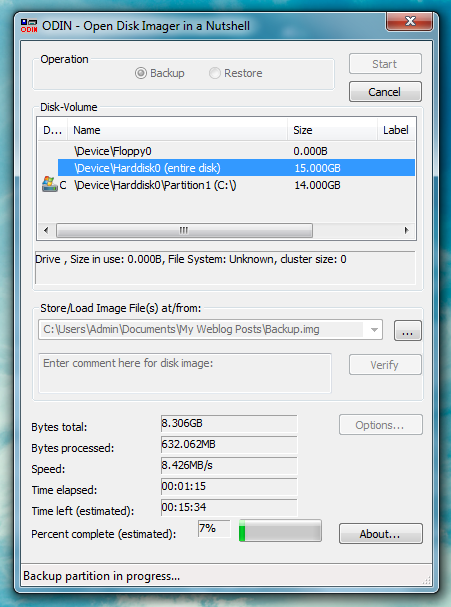 ODIN is an open source application, which works on Windows XP, Windows Vista and Windows 7.