IconRestorer: Backup & Restore Desktop Icon Layouts For Different Resolutions
Although Windows 7 provides users with an option to quickly arrange desktop icons and get rid of clutter like unwanted gadgets, third-party apps' widgets etc., it doesn't offer a convenient way to quickly organize desktop icons and save the entire desktop layout. For this reason, most users opt-in for third-party solutions, like Fences, to keep their desktop icons organized. Many of us like to keep important files and shortcuts to applications on the desktop to instantly access them, but this often leads to a cluttered desktop. If you don't like the way Fences organizes desktop items, then give IconRestorer a shot. This miniscule application lets you back up the desktop layout i.e., icon positions on the desktop, so that you can restore older arrangements of desktop icons with a click. Additionally, it enables you to save up to two layouts for each resolution; quite a handy option if you frequently switch between different screen resolutions or displays. Details to follow after the jump.
The application offers a ribbon-based interface, containing a total of 6 tabs. The Manual Actions tab lets you save the current desktop layout and restore last saved desktop layout. Moreover, it displays the current resolution of the primary screen, current Windows version, system architecture (32-Bit/64-Bit), DPI, number of monitors attached etc.
Backing up desktop layout is simple. In Manual Action tab, click Save current desktop layout. You may give an appropriate name to desktop layout backup file. All the saved layouts are automatically moved to Layouts tab, where you can restore your desired backed up desktop layout.
The Layouts tab not only houses saved icon positions, but also provides preview of each layout configuration in order to easily identify the desktop layout you want to restore. To restore any layout, select it and click Restore selected layout. Apart from restore, you can edit certain settings such as disable Show layout preview and Last layout on top – Rename, Delete, Export or Import saved layouts.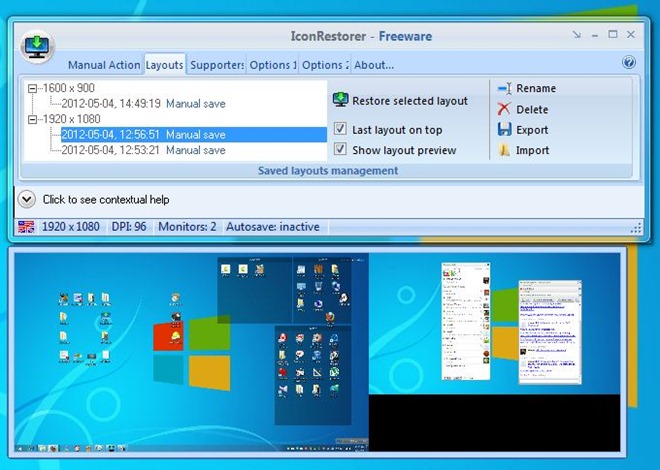 Under Options 1 tab, you will find various application specific settings. You can change interface language, color scheme, and enable/disable Refresh icons after restore, Start minimized, Close to system tray, Hide new files options.

The Options 2 tab includes some layout related settings that you can configure according to your preferences.

IconRestorer also offers a paid (Supporters) variant, which includes some extra options such as unlimited number of layout backups, autosave function etc. The application works on Windows XP, Windows Vista, Windows 7 and Windows 8.
Download IconRestorer Standard (Free)
Download IconRestorer Supporters (Paid)