Backup, Share & Sync Data Securely Across Platforms With Norton Zone
With the likes of Bitdefender, Acronis, Comodo and numerous other renowned system and internet security providers already having released their dedicated cloud storage solutions, it was about time that Symantec came up with a solution of its own. Available as a free (limited) beta, Norton Zone Cloud Sharing is a cross-platform online data backup and sharing tool for web, Windows, Mac, Android and iOS laced with quite a few sought-after features. As with several already existing services, Norton Zone Cloud Sharing is offering an initial 5GB of free cloud storage to each registered member, which can be further expanded by subscribing to various paid plans. In addition to the conventional online file backup, restoration & sharing tools, the app also offers stringent data protection mechanism through patent-pending encryption key management, complete control over shared folders, multi-account online collaboration, universal file format support, on-the-fly malware scanner integration, and the luxury to track, browse & restore file versions dating back as far as 3 months.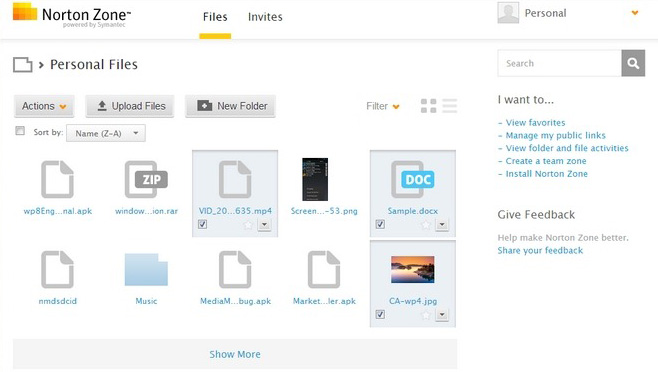 To get started with the service, you can grab a free account by visiting the Norton Zone website. The web app of Norton Zone Cloud Sharing provides you with a full-featured interface for uploading, downloading and managing your files, whereas the desktop client offers a convenient means to keep your cloud content synced with the computer and vice versa. Once installed, the app creates a 'Norton Zone' folder on your computer that stays in sync with your cloud storage on the service. This directory is customizable, meaning you may select a location of your own choice for it.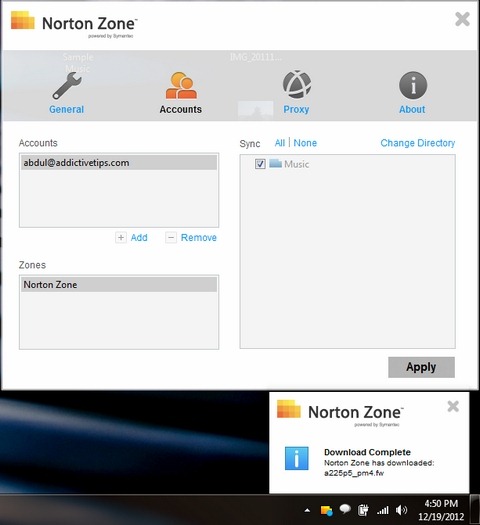 Provided you've already uploaded some content to your personal storage, the desktop app will automatically and instantly start syncing files to the specified folder on your computer upon launch. The desktop client also supports shell integration to let you easily push any file or folder to your online storage from the right-click menu, and then you have the conventional copy/paste or drag-and-drop method for the purpose. The right-click menu of the app's notification area icon allows you to quickly open your Norton Zone folder, check current sync progress & overall consumed storage space, add another account, subscribe for more storage, and play around with the app's configuration.
The Android app is quite neatly built, where a dedicated sidebar helps filtering your Norton Cloud documents, photos, music, videos and other files with ease. Besides a built-in photo viewer and file browser, the app supports several features that are hard to find in most similar apps.
These include the option to natively upload any number of files of any type or size from your mobile device to user-created folders on the cloud, commenting on files, offline browsing of cached content, bookmarking required files, authorized access to the app via a secure passcode, option to share files via public links, Facebook or email, multiple views for cloud content, detailed log of your past activities on the network, and a lot more.
The app also supports basic file management features, and lets you move content between different folders on your cloud storage. The built-in search bar makes the process of looking for your required files anywhere on the cloud a breeze.
All in all, Norton Zone Cloud has to be praised for its overall effectiveness with the various features it supports. However, the mobile app can still be improved with the inclusion of several key features such as the option to cancel ongoing uploads, native music and video streaming support, Dropbox & Google+ style instant uploads for photos and videos, retrieval of deleted files, and most importantly, the option to download unsupported file formats.
Download Norton Zone Cloud Sharing For Windows
Download Norton Zone Cloud Sharing For Mac
Download Norton Zone Cloud Sharing For Android
Download Norton Zone Cloud Sharing For iOS