Turn Your USB Drive Into A Portable Apps Launcher & Media Manager
Have you ever wanted to take your favorite Windows apps with you and use them wherever you have an access to any Windows PC ? CodySafe is what you're looking for! It's a handy portable applications manager that lets you install portable apps on a USB thumb drive or external portable drive. Both the software itself and the downloaded apps are directly installed to your flash drive. In addition, you can carry you favorite media files with you in its pre-configured and well-organized Music, Pictures, Videos and Documents folders. You may also enable the integrated autorun option for CodySafe to automatically launch itself as soon as you plug in the drive. Likewise, the installed apps can be set to auto-execute similarly as well.
The application is designed to be installed on a USB drive rather than your computer's hard drive. During installation, you can label the drive by entering your desired name. The app itself is installed under CodySafe directory, while the media and other files go under Documents, and the installed applications can be found in the PortableApps folder on the drive.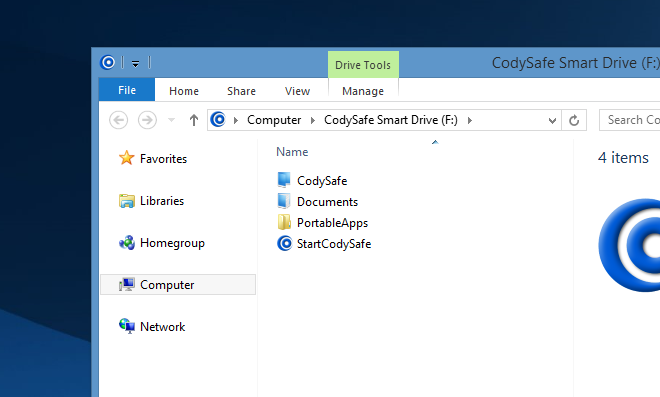 Once launched, the application resides in the system tray area and start menu-like interface can be opened by clicking its notification icon. The interface may look outdated by todays standards, but it is easy to both use and configure. The UI gives you quick access to the folders within the drive, the portable apps you have installed to it, and an overview of the used, free and total space on the drive. You can use the stop and eject buttons to exit the application or plug out the USB drive respectively. The installed applications are displayed in the left pane. You can download and install additional portable apps from CodySafe's own software repository, which contains popular apps like KMPlayer, Teamviewer, Skype, PicPick, Wise Disk Cleaner, and plenty of other useful tools and utilities.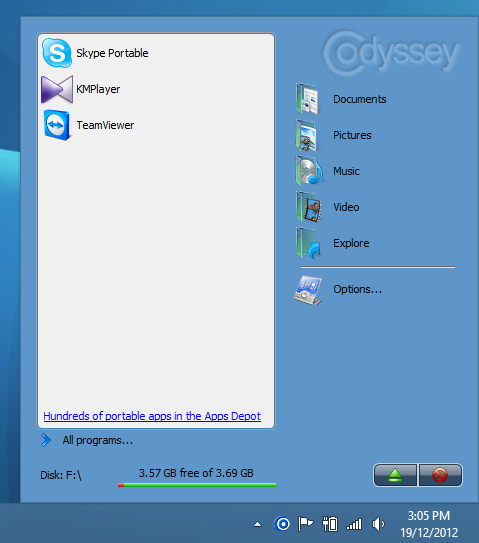 Clicking Options on the main screen gives you access to the settings window. Here, you can change the language, configure a few generic options, assign hotkeys, and manage your existing apps. Furthermore, there's a Drive Doctor feature that scans the flash drive for any viruses or disk errors, and try to fix them automatically if possible. You can also save your contact information in the drive so that if it gets stolen, whoever finds it can use the information to return the device to you.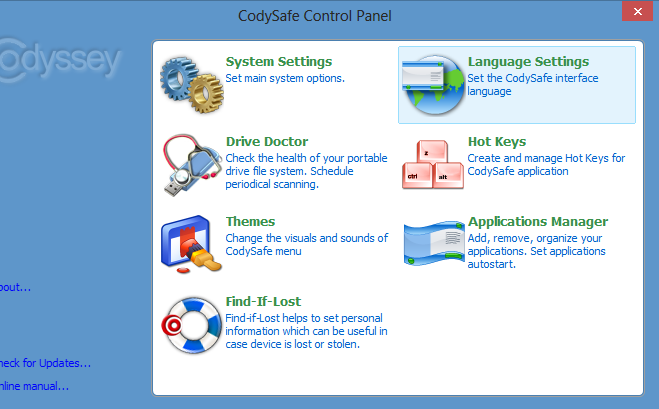 Under Applications Manager, you can add or remove portable apps according to your preferences. In addition, you can specify a custom number of applications that you want to auto-execute whenever the drive is plugged into a PC.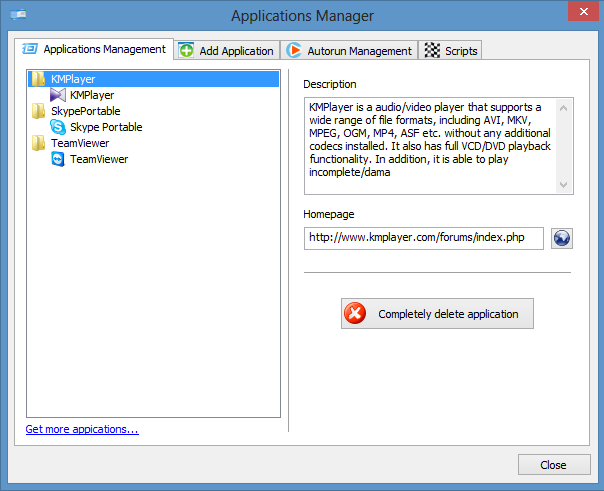 The Hot Keys feature can come really handy for keyboard shortcut fans, as it allows you to assign global hotkeys for various program-related actions such as show, hide or exit CodeSafe, eject the drive, open the Control Panel, or run any of the installed applications.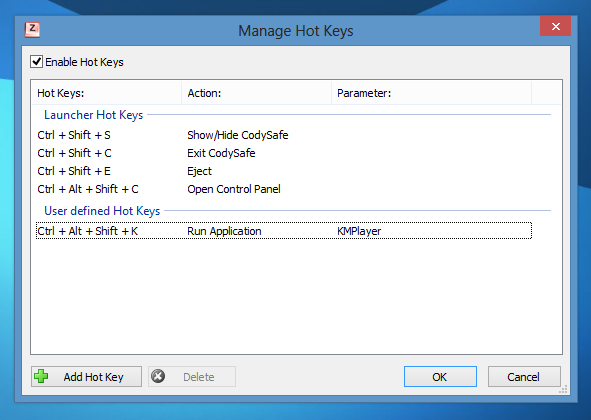 Overall, CodySafe is an excellent application launcher for managing your portable apps and media on the go. It works on Windows XP, Windows Vista, Windows 7 and Windows 8.