Syncdocs – Backup, Synchronize And Open Local Files With Google Docs
SyncDocs brings Dropbox app like implementation for Google Docs, allowing users to sync their Google Docs documents, spreadsheets, presentations, and other type of files across all the PCs. This eliminates the need of having  to either download the documents from Google Docs manually or use Google Docs plug-in for Office to open and edit them from desktop. Syncdocs takes an offbeat approach to make Google Docs your native document editing platform. You can for instance make Google Docs default document viewer and editor rather than using other paid Office suite applications. Apart from saving you a lot of money, it makes sharing and collaboration with your fellow team members a lot easier. You would just need to allow remote access to Google Docs documents in order to seamlessly share and collaborate with others over the LAN. Using the Google Docs native document sharing controls, viewing and editing constraints can be applied on the go to ensure data confidentiality.
There isn't one specific usage scenario. You can use it in any way you want. For example, after installing Syncdocs, you can keep your PC Documents folder synced with your Google Docs cloud storage, create backup of Google Docs documents, or make it default viewer and editor to sync documents in real-time. The first step is to enter your Google account details followed by configuring Sync file types, Document Conversion, and Window file association options.
From Sync file types, you can either choose to Sync all file docs or keep only those documents synced which are editable in Google Docs. Similarly, the conversion option lets you convert latest Office document formats to Google Docs format. The Windows Integration refers to making Google Docs default office suite by associating DOC, XLS, PPT, ODT, and PDF document file formats with Google Docs.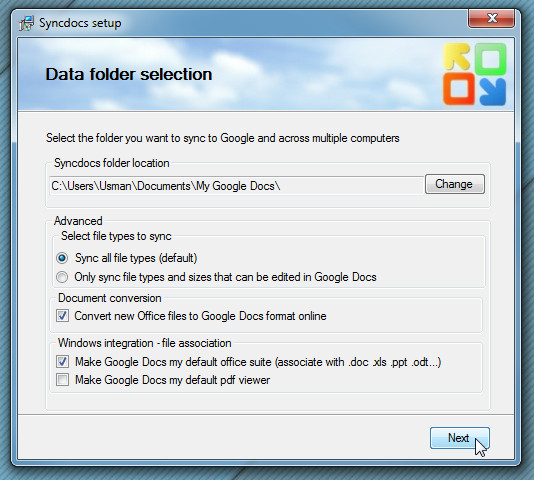 After you've set up the preliminary options, click Next to end the wizard. It will sit in system tray, change file associations (if selected), and begin syncing Google Docs with defined location. To configure other options, see sync status, start/pause synchronization process, view recently modified documents, and open local Google Docs folder, just right-click its icon and select respective option.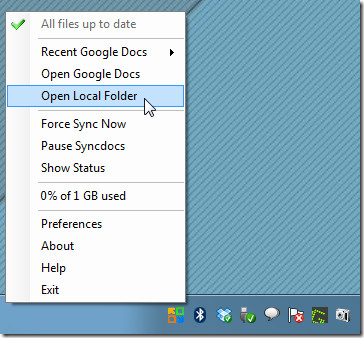 With Windows shell direct integration, you can open Google Docs documents from right-click context menu. Just select the document, right-click and open View in Google Docs to open Google Docs in default browser.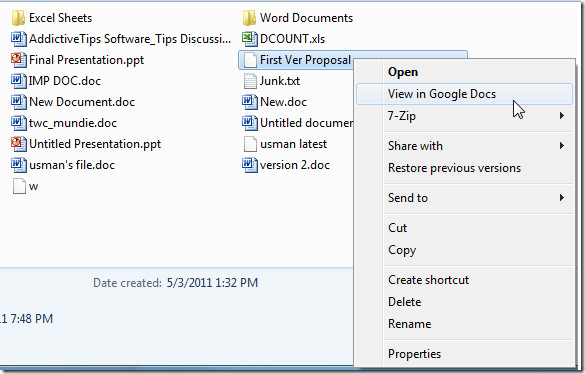 To share Google Docs documents over the network, you can use Windows file sharing feature or install Syncdocs on other nodes and then change documents access from Google Docs. Syncdocs offers the most convenient solution to backup, share, collaborate and most importantly view and edit Google Docs documents from desktop. It works on Windows XP, Windows Vista, and Window 7.
Find out more about Syncdocs in the video below.