Backup Windows User Profile Folders & Web Browser Profiles With Auslogics BitReplica
Backing up important data is highly recommended, as data loss can occur anytime due to an unexpected system crash, logical/physical bad sector, virus infection and so on. We've covered a bunch of data backup tools for multiple platforms in the past, and today, we've yet again come across a similar utility known as Auslogics BitReplica, a new backup application for Windows that allows you to quickly backup files including music, movies, photos, documents etc., and installed web browsers' profile folders. It enables you to create multiple backup jobs, and run them at once. The backup jobs can also be scheduled to run at a specified time. It comes packed with a slew of backup options namely Simple Copy, Full Backup, incremental Backup, Differential Backup and Synchronization Back, where the latter is used to sync files between two different directories. Other noteworthy features include Multi-volume archiving, Extended restore options and Back from any storage media.
Creating a backup job is easy. The first thing you need is to make a new backup profile. Click New Profile on the toolbar to start the backup wizard.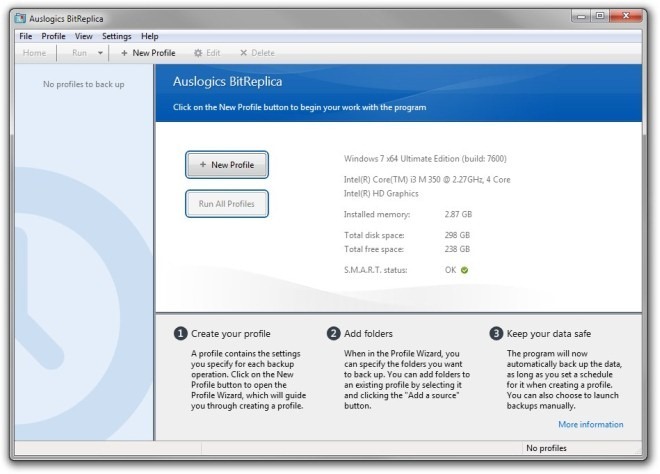 The wizard is based on six steps in total (What, Where, How, When, Advanced and Summary). First off select the source files you want to back up by clicking Add a Folder button at the bottom left. There are also some predefined items to choose from, for instance, Desktop, My Documents, My Music, My Pictures, My Videos and even Firefox and Chrome profiles.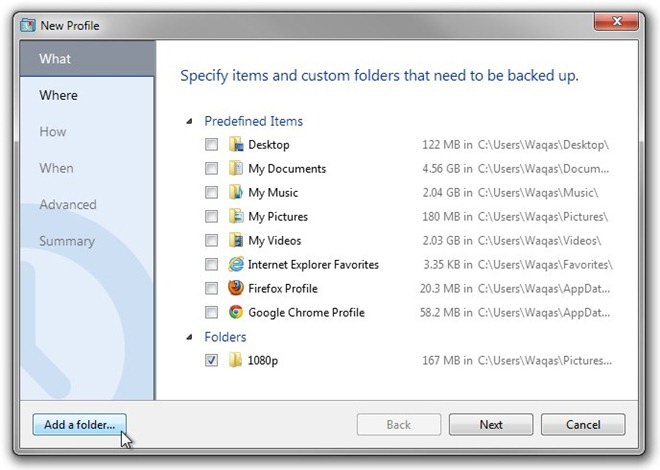 Next up, choose the destination directory where you want to backup the specified folders and click Next.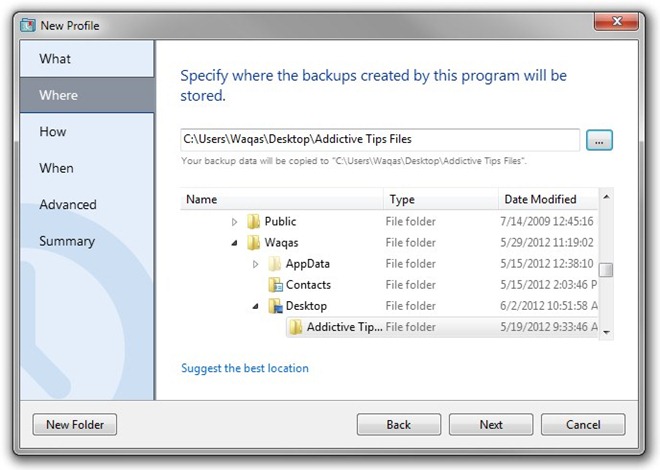 Now, assign the type of backup files by choosing among the aforementioned backup methods. If you're creating backup for the first time, we recommend selecting Full Backup option from the drop-down menu.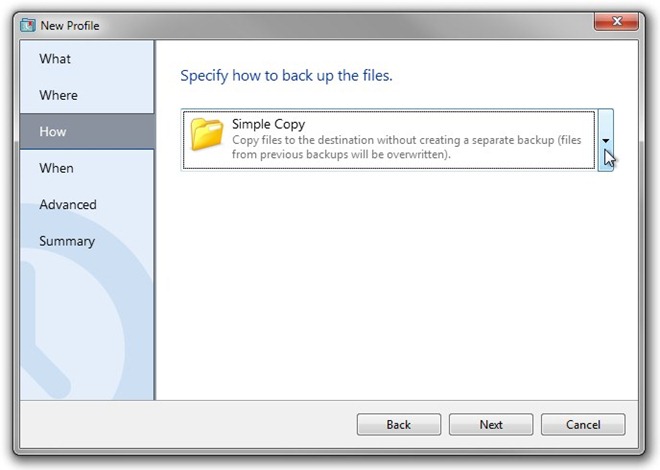 The When step lets you select how you want to create backup, i.e. Manually, Hourly, Daily or Weekly.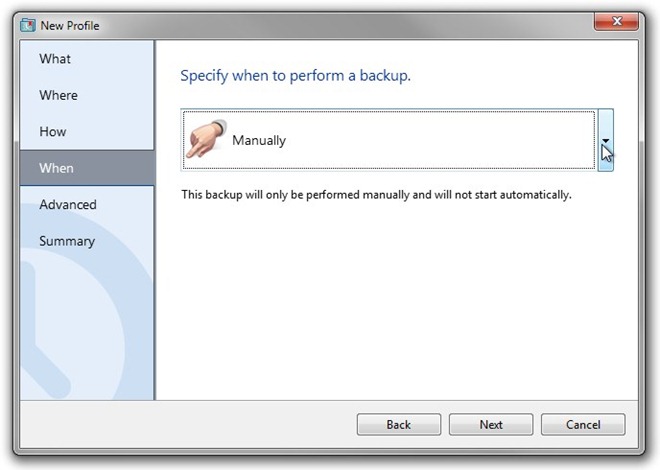 Before starting the backup process, you can specify a few advanced features of the application under Excluded files, Advanced backup settings and Run applications sections. If you want the application to ignore certain file extensions during the backup task, you can mark them under Excluded files, and if you want a certain application to run before or after the process, you can select them from Run applications. The Advanced backup settings contains options like Verify files after copying to destination and Back up alternate data streams.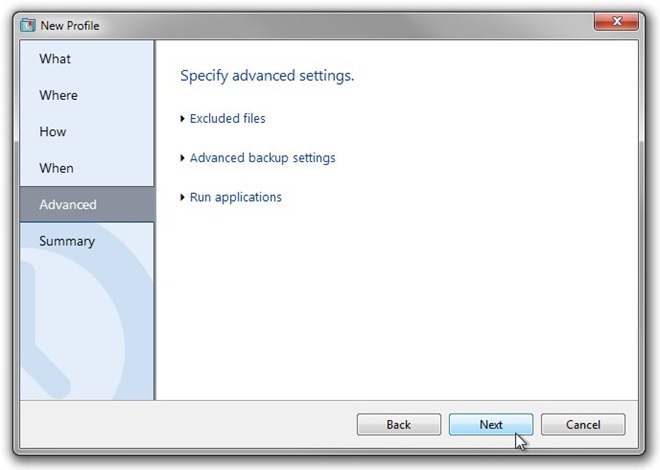 Finally, recheck your backup settings from Summary, and click Finish to complete the profile creation wizard.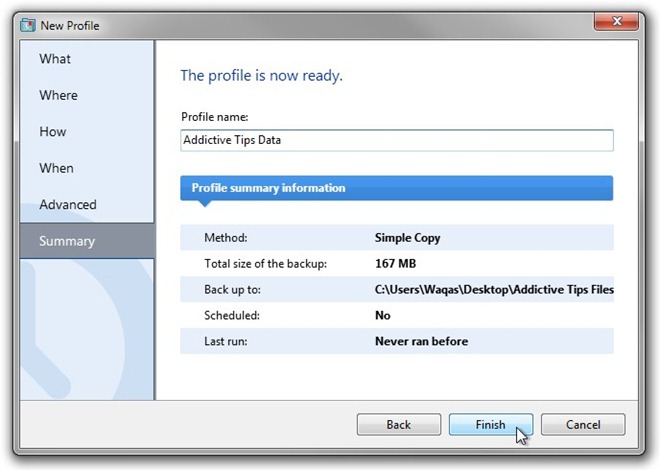 Once created, it will list down the backup profile in the main window. All you need is to click Run on the toolbar to begin the backup process.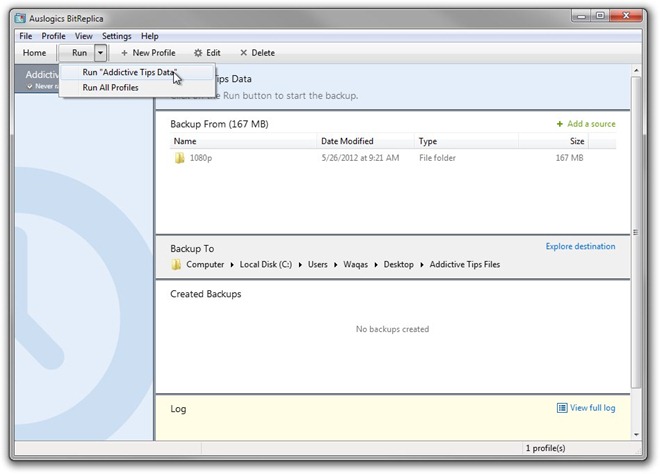 There are also a few application specific settings that you can change From Program Settings, accessible from Settings menu. It contains options to change user language, set program to auto start at Window log in, enable/disable tool tips and define maximum log size.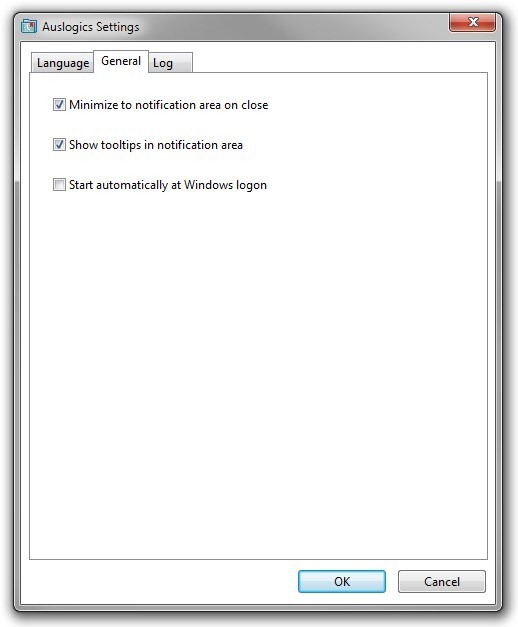 The application works on Windows XP, Windows Vista, Windows 7 and Windows 8. Both 32-bit and 64-bit OS editions are supported.