Baconography Is A Reddit App For Windows Phone 8 & Windows 8 With Easy Subreddit Management
Until now, Windows Phone users have had some pretty satisfactory Reddit clients at their disposal. Baconit and InstantReddit exemplify the kind of Reddit apps that have been available in the WP Store in the past. These apps might not be too heavy on features, but are great for everyday use, owing to their neat UI and easy navigation options. With the release of WP8, however, the demands of users have changed to some extent. Since Microsoft has been trying to work towards merging Windows 8 with their mobile platform, a lot of developers have started coming out with apps that are great on your phone, but can also come in handy on your Windows PC or tablet. Baconography is among the first Reddit clients that are available on both Windows Store and the WP Store. The app is perfect for all Reddit users who have very particular preferences regarding subreddits, since Baconography allows them to pin any subreddit to the app's main screen. The comments view is great in both apps as well.
Baconography is among the most uncomplicated Reddit clients we have ever seen for any platform. You won't need any instructions to get started with it, and the 'front page' shows up automatically as soon as the app is launched for the first time. To personalize the whole experience, head to the app's bottom bar and log in to your Reddit account. Surprisingly, Baconography even comes with a  sign up option – something that is usually missing in Reddit apps for Windows Phone.
To search for a particular subreddit, swipe to the right of the screen and use the search box. Apart from searching, some of the most popular categories are pinned on the 'new' page as well. To add a subreddit to your Baconography screen, simply open it. To remove or reposition these threads, use the 'manage subreddits' option from the bottom bar.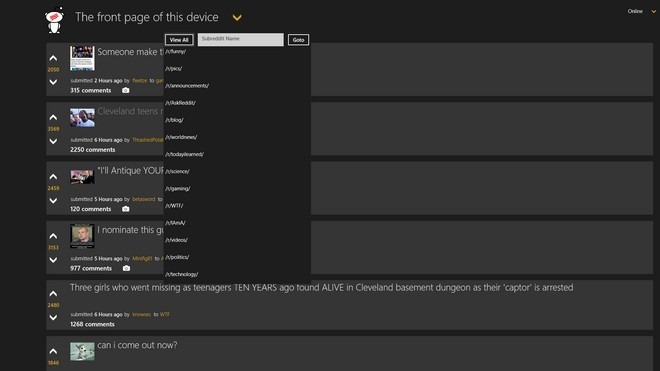 In the app's Windows 8 version, the feeds show up in a layout that is identical to the mobile one, but some of the controls are placed a bit differently. To switch to a new thread, right-click and choose the 'subreddit' option from the bottom app bar. The small arrow next to the current subreddit's name can also be used to go to a new thread. The desktop client is also capable of loading some of the content for offline viewing.
While viewing a post, it is possible to go straight to the actual content, or read the associated description and comments first if you choose. From Baconography settings, you can define the number of comments that are loaded for each post by default. If you are logged in, you can vote on a post, submit a reply, or go to its parent subreddit. Like all good Reddit apps, Baconography for WP8 is capable of playing GIFs on your mobile devices screen.
Baconography is a free app. The Windows Phone version works only with WP8, while the desktop one is compatible with Windows 8 and RT.
Download Baconography For Windows Phone
Download Baconography For Windows 8