Batch-Download All Images From A Tumblr Blog With TumblOne For Windows
Tumblr is a blogging platform well known for its humorous and quirky posts. For those unfamiliar though, the micro-blogging website allows users to post short-form content (mostly photos and videos) and quickly let it share with others as links, quotes, text etc. Unlike WordPress and Blogger-based blogs, however, Tumblr also allows you to 'follow' blogs in a Twitter-esque manner. You can even like posts and reblog the ones you like. But even after being given such flexibility and control over their Tumblogs, most people simply prefer sharing photos on them. If you're following a particular Tumblr blog and want to download all the photos hosted on the site in one go, TumblOne might be what you're looking for.
The purpose of the application is to crawl the specified Tumblr blog and download all the images hosted on the site. The straightforward interface may look quite primitive, but the app flawlessly does what it's built for. TumblOne's application window carries a toolbar a t the top that houses a few buttons for adding and removing blog URLS, accessing the download folder, and executing the crawl. The added URLs are automatically saved and appear in the list.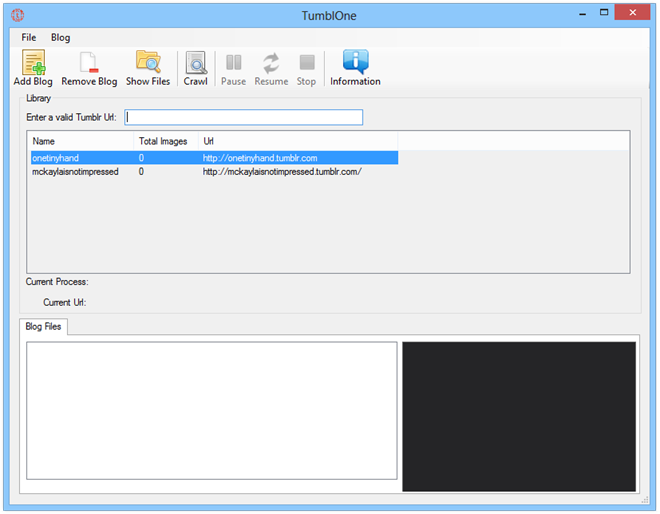 To get started, enter the Tumblr URL in the appropriate field in the app, and hit the Crawl button to let it begin crawling the site's content. Make sure that you enter the correct URL; you can simply copy and paste the link without https, as the app inserts that on its own.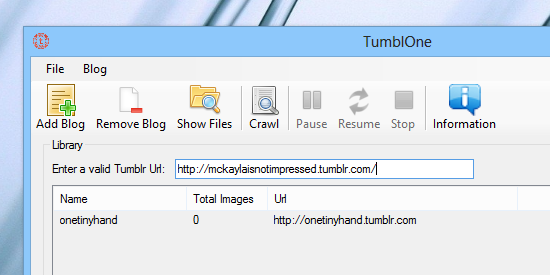 Once the site crawling begins, the application displays the current progress under the Blog Files tab by listing down the image files successfully crawled and downloaded. An image preview is also shown on the bottom-right. The application automatically downloads all the images on the blog, so you don't have to click any download button separately or mark certain items that you need to grab. From the toolbar, you can Stop and Pause the download process at any time you want.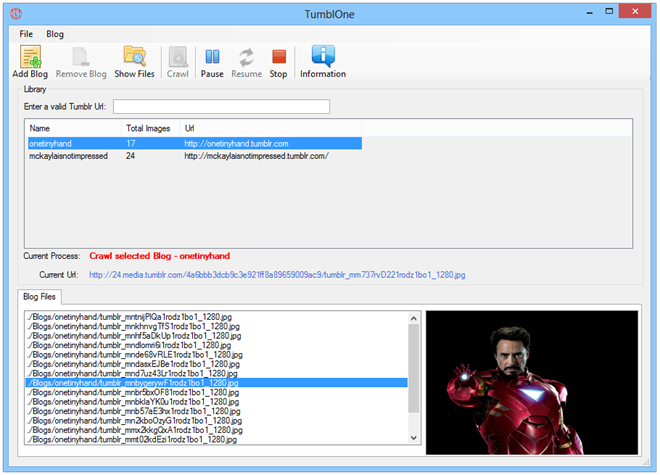 You can also click the 'Show Files' button from the top bar to open the resultant folder where the images are saved from the site. The application automatically names the folders according to their blog title.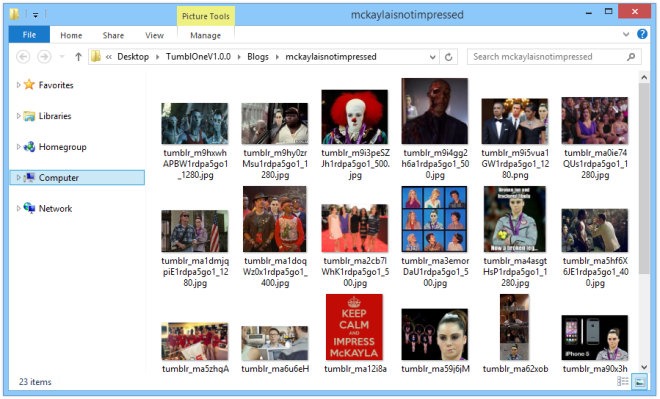 All in all, it's an excellent and very useful app for quickly downloading Tumblr images in batch. TumblOne is an open-source portable application, and supports both 32-bit and 64-bit versions of Windows XP, Windows Vista, Windows 7 and Windows 8.