Bitdefender Safepay Is The Most Secure Browser For Online Transactions & Private Surfing
Both Firefox and Chrome are considered the big guns of today's web browsing industry, with Microsoft's Internet Explorer incessantly leaping behind. Even though Redmond's offering still holds a large market share for now, Internet Explorer doesn't seem to have a bright future a head of it compared to the other two. Though apart from mainstream general purpose browsers, there are also niche browsers that specialize in a particular aspect of web browsing. Bitdefender is one of the most reputed names in the computer security industry and yesterday, they released a browser of their own that promises safer and more secure web browsing compared to any currently available option. Currently in beta, Bitdefender Safepay runs in its own full-screen, sandboxed more in order to make the activities of e-commerce, online banking and internet shopping secure, and keep users safe from hacking, phishing, tracking and session hijacking attempts that could compromise their sensitive information.
Safepay brings with it a bunch of cutting-edge features as well as cloud technology to prevent online frauds, malware and phishing scams while offering secure inbound and outbound traffic, full screen mode that automatically disables other apps on desktop, integration with any antivirus that you might have installed on your computer, and more.
To get started, you need to sign in with your MyBitdefender account. You can create a new one for free via your email, Facebook, Google or Microsoft account; just make sure to provide the required app permissions when signing up with any of these other accounts.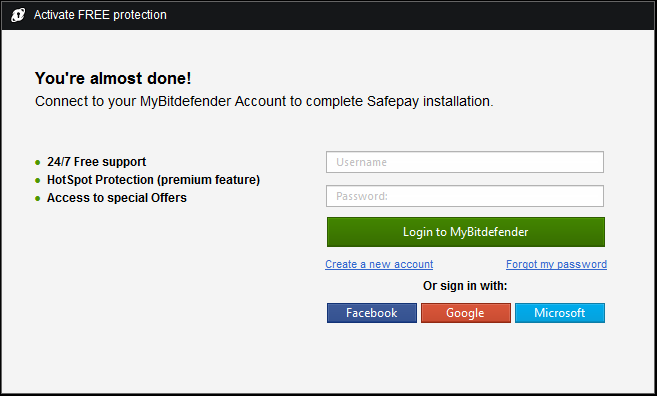 Once signed in, you're presented with the main web browser itself that launches in a sandboxed environment and takes over your whole screen.  The interface of the application looks very elegant and vivid, sporting dark grey design from top to bottom. Safepay automatically performs a scan on your running programs for viruses, malware and other threats during every run. This feature ensures that in case any of your programs is infected with malicious threats, it is prevented from interacting with the browser's sandboxed environment. This keeps any malicious tools like keyloggers or other spyware from tracking your activity. During testing, I noticed that Safepay won't let me launch or work on any other program with it. In fact, it also disabled the native Win + Printscreen feature for screenshots, which shows great attention to detail and ensures that if you leave a browsing session unattended, no one can even take screenshots of your activity. In a nutshell, it's pretty efficient.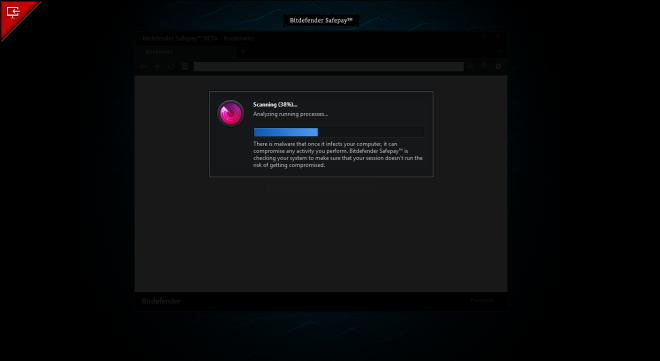 You can click the triangular red buttons at the top corners to switch back and forth between your desktop and Safepay. And from what it seems, these buttons are the only way to get out of the sandbox or get back into it.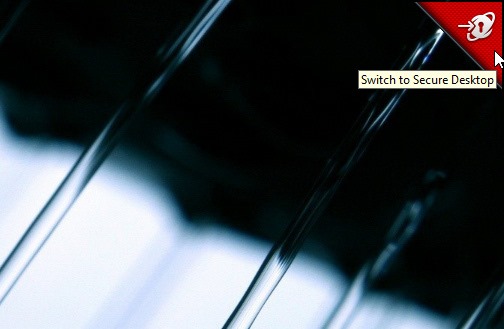 The browser itself looks and feels like a modified version of Firefox. Don't expect a plethora of features in there though, because the app is still in early Beta. However, Safepay offers a tabbed interface which makes browsing multiple websites a breeze. It also supports Opera-like Speed Dial feature and allows adding bookmarks as favorites for quick access.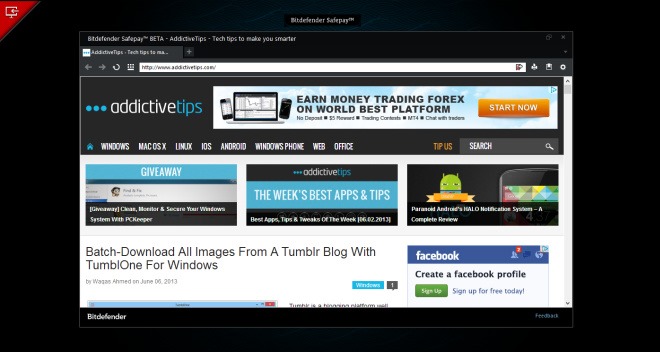 The application even provides an integrated virtual keyboard, which is designed to prevent any persistent keyloggers (especially hardware ones that can be attached to the keyboard itself) from saving and monitoring keystrokes, eliminating the risk of getting your passwords, financial details and other sensitive information stolen.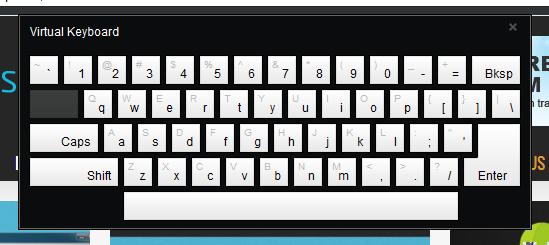 Bitdefender Safepay is available in both 32-bit and 64-bit versions of Windows. Testing was carried out on Windows 8 Pro.