Convert Videos To High-Res Cinema & Broadcast Formats With Cinec
Cinec is a powerful Windows application that allows you to encode or convert video files to high-resolution cinema and broadcast formats such as ProRes, DNxHD, XDCAM and H.264. It can accept a multitude of video files as input including AVI, MPEG, MTS, M2TS,M2V, 3GP, MP4, M4A, 3G2, MJ2, MOV, WMV and more. The app's aforementioned output formats are basically designed to work with high bandwidth and bitrates during post-production processing as well as broadcasting of videos. For instance, Apple's ProRes codec can easily output videos at up to 4k resolutions. Likewise, Digital Nonlinear Extensible High Definition (simply referred to as DNxHD) is also be used in high-quality video editing. Cinec takes full advantage of today's multicore processors for fast and optimum conversion of video files. Details to follow after the jump.
The interface of the application boasts a conventional design and looks pretty straightforward. If you've previously used any video converter or encoder, you won't face any problem using Cinec as well. The application also allows you to cut the required part from a video. To do that, just use the start and end scrollbars at the bottom. For more precise trimming, you can make use of the numeric selectors next to the scrollbars, which allow for selecting the required frame positions.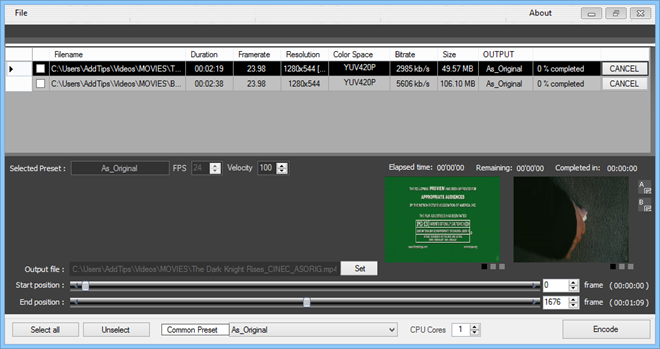 Another interesting feature I found is the the velocity option. The velocity selector allows you to slow down or speed up the encoded frames. By default, the velocity of any input file is set to 100% (normal speed), and you can change it according to your preferences by increasing or decreasing this value. That said, the FPS (Frames Per Second) of a video can also be custom-defined by the users between 1 to 100.
The supported video codecs can be selected via the Common Presets drop-down menu at the bottom of the interface. You can either leave the codec in its original state, or choose among other available options. Apart from XDCAM, all the other three codecs i.e. ProRes, DNxHD and H.264 let you select among multiple parameters, for example Apple ProRes 4444 or 422_LT, Avid DNxHD 220M or 90M and H.264 HQ or BASE etc. Furthermore, you can specify the total number of CPU cores to be used for the encoding process via the numeric selector to the right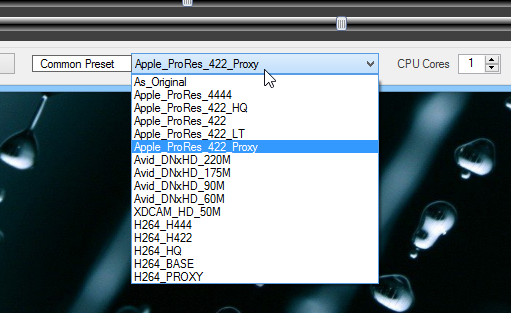 Cinec displays frame previews for the start and end points of the selected sequence. The A and B buttons next to these previews allow changing the zoom level among three different states. Once you have configured your settings, simply click the Encode button to start the conversion process. Cinec can easily convert multiple videos files in batch.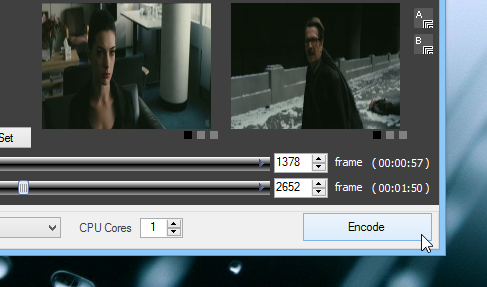 Cinec is a free application that works on Windows XP, Windows Vista, Windows 7 and Windows 8. It supports both 32-bit and 64-bit versions of the operating systems.