Batch Download & Set National Geographic Featured Photos As Wallpaper
Staring at the same desktop background day after day makes it pretty boring for the user. Having a new wallpaper after every couple of days keeps, both the desktop, and the mood of the user fresh. Manually changing the wallpaper everyday is a tedious task and something not everyone would be willing to do on their own. Earlier, we have covered applications that change the desktop wallpaper daily or after a user-specified time interval, such as Picturethrill an open source application that automatically downloads new wallpapers from five different sources and applies a new desktop background on your computer screen daily, and Bing Desktop a tool that automatically downloads and applies the Bing homepage image to your desktop background and provides you with access to the Bing search engine right from your desktop. Today, we stumbled across another open source application that lets you download the National Geographic Photo of the Day from the desktop, and set it as your desktop wallpaper. National Geographic Photo of the Day Wallpaper Changer has automatic as well as, manual wallpaper switching modes available. Details to follow after the jump.
You can apply the wallpaper directly from the website and you can also download it to your computer for using it later. It must be noticed that some copyrighted images are not available for download, and therefore, cannot be used as a wallpaper. The main window contains Add to Archive, Open Archive, Load Current Wallpaper, Lock on Current Wallpaper, Archive Photo of the Day and Run on Windows Startup options at the left side, while Photo of the Day and Set Wallpaper buttons along with navigation buttons are available at the bottom of the window.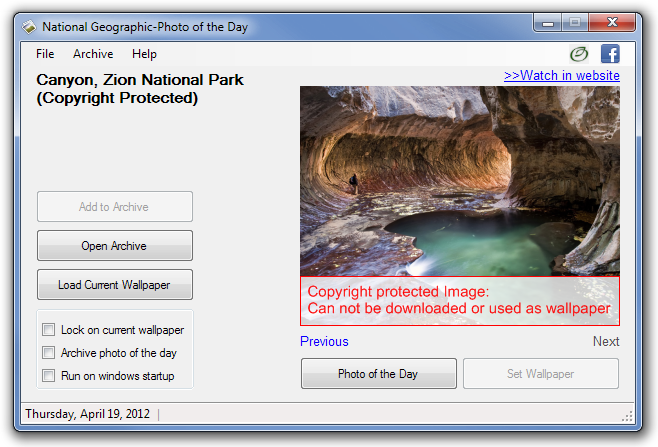 The image that is available for use can be set as wallpaper as well as added to archive for later viewing. Click the Open Archive button to access the folder containing all the downloaded images.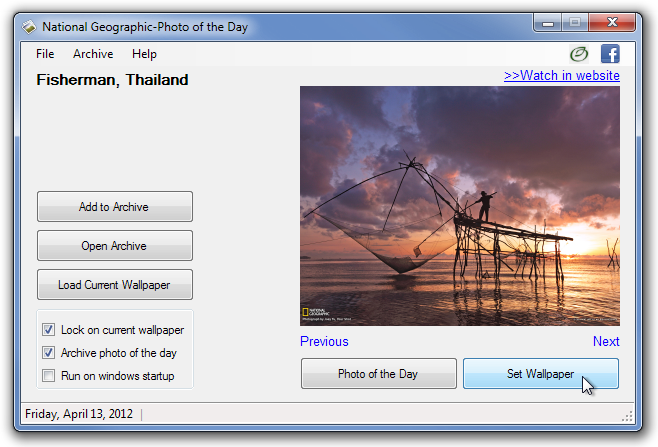 The application also supports batch downloading of featured images from National Geographic. Just select Advance Archiving from Archive menu, specify the start and end date, and hit Start to begin downloading images in bulk.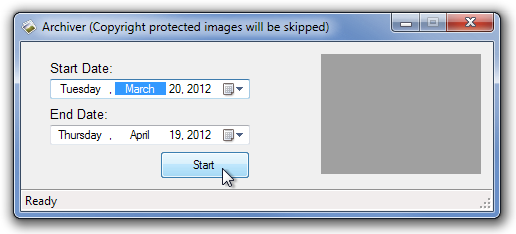 National Geographic Photo of the Day Wallpaper Changer works on both 32-bit and 64-bit versions of Windows XP, Windows Vista, Windows 7 and Windows 8.
Download National Geographic Picture of the Day Wallpaper Changer