Bazaar For PC: Manage & Get Windows Phone 7 Homebrews From Your Desktop
If you have a Windows Phone 7 device, and you like to stay up to date with the latest developments going on for Mango, then you must be aware of Bazaar, the Cydia store for WP7. Bazaar is the app which lets users having a fully unlocked device to install homebrews to their phone. It is a Marketplace for XAPs, and replicated the official Marketplace's features pretty accurately. However, if your device is not fully unlocked, i.e. you don't have a custom ROM, then Bazaar is of no use to you. That situation has just changed, with the release of the desktop client for the homebrew store, titled Bazaar for PC. Using the application you can manage, browse, share and download XAP files available in the Bazaar store.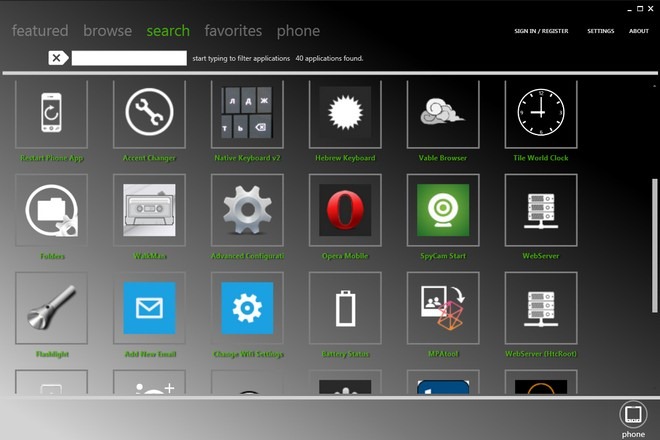 Just like Bazaar is a Marketplace alternative, the desktop version of the app does what Zune does for common apps. Admittedly, there are just 40 homebrew apps available in the store for now, but things can only improve from here, and more tweaks and XAPs are sure to join the ranks of the ones which are already listed. After you have downloaded the application's file from here, install it, and you are ready to go. Like with Zune, add your device to Bazaar first of all. This can be done by tapping the Phone icon in the bottom right corner. The featured page lists some of the most popular homebrews for WP7, while latest development news and tweets are listed under the apps on the same page. There are 2 ways of finding apps in the Bazaar; you can either browse through the whole store (given the small number of available apps for now), or there is the option to search through the store's database. In the browse section, XAPs are listed under apps and tweaks, with many subcategories defined as well.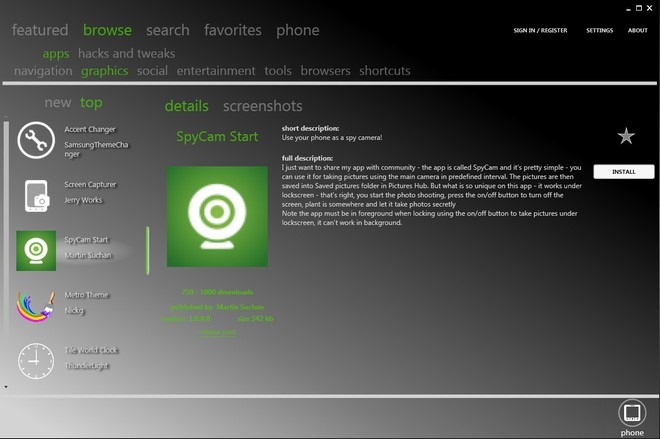 Once you have found the homebrew you were looking for, you can install it or add it to your favorites list, and there are dedicated buttons available for both actions. Each homebrew has got a dedicated page, which sports the XAP's description, screenshots, downloads and other relevant details. For now the Settings section just lets you change the accent color of the application's test.
Bazaar for PC looks like it can use a few improvements, and the store just has to be populated by a lot more homebrews, but overall, it's usefulness lies in the fact that it brings Bazaar's convenience to developer unlocked devices as well, rather than just fully unlocked ones. You can read more about the application by heading to the source link below.