Benchmark Read / Write Speed And 4K-64 Thread Of SSD Drive
Contrasting to conventional hard disk drives, SSDs (Solid State Drives) demand a whole different set of tools to check the health status and read and write capability. This is primarily because SSD storing mechanism differs from other storage mediums, as data is saved on microchips and not on magnetic disks. Since data read/write operations are not based on spinning of disk platters, you need a dedicated read/write benchmark tool to test and evaluate the overall data read and write speed of your Solid State Drive. AS SSD Benchmark is such an application which puts SSD drive through both read and write speed tests. It presents 4 types of tests which can be conducted either in one go or you can choose against which parameter to evaluate read/write disk speed. It can perform read and write operation sequentially, read and write 4K size block, check 4k-64 Thread reading and writing speed, while an option to count Acc.time is also provided.
To start out the read/write test, launch the application and select the drive over which test is to be performed. Once selected, enable options in main window – Seq, 4K, 4K-64Thrd, and Acc.time. If you want to check all of them in one go, select all the options and click Start.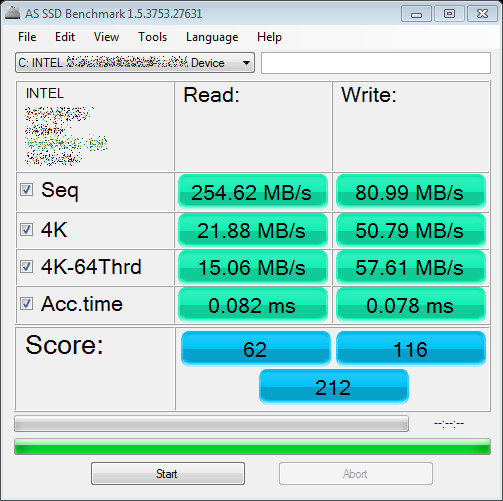 After the test is finished, it will show Score in the main window. For each selected parameter, you will see read and write results. Now you can compare your score along with R/W speed with a newly purchased SSD to infer the performance.  From Tools menu, you can bring up Copy and Compression Benchmark window to check copy speed of sample ISO, Program and Game files and compression controller respectively.